World Cup 2018: BBC to show France v Argentina in last 16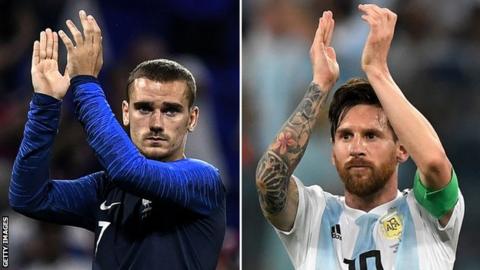 France versus Argentina will be one of four World Cup last-16 matches shown live on the BBC.
Lionel Messi and his team-mates will take on Didier Deschamps' side in Kazan at 15:00 BST on Saturday.
The BBC will also show hosts Russia against Spain on Sunday, Belgium's match against Japan on Monday and Sweden v Switzerland on Tuesday.
England's match against Colombia in Moscow on Tuesday will be live on ITV, with commentary on BBC Radio 5 live.
Argentina almost went out in the group stage and needed a late winner from Marcos Rojo to beat Nigeria 2-1 in their final Group D game to finish as runners-up.
Messi, who is playing at his fourth World Cup, is seeking to win the trophy for the first time, after Argentina lost to Germany in the final in Brazil four years ago.
The BBC and ITV are, between them, showing all 64 matches live at the World Cup.
All 33 games from the BBC - including the final in Moscow - will also be available via the BBC Sport VR 2018 FIFA World Cup app.
Users will be able to watch the action direct from the stadium in a fully immersive environment - as if they were actually watching from inside the stadium in their own hospitality box.
Users can also watch BBC TV games in virtual reality with commentary from Match of the Day and follow a live stats dashboard with real-time match information.
There will also be build-up to every live game, match highlights in VR and feature content in 360-degree video.
Live TV World Cup games - the last-16 split (all times BST)
Saturday 15:00: France v Argentina - BBC
Saturday 19:00: Uruguay v Portugal - ITV
Sunday 15:00: Spain v Russia - BBC
Sunday 19:00: Croatia v Denmark - ITV
Monday 15:00: Brazil v Mexico - ITV
Monday 19:00: Belgium v Japan - BBC
Tuesday 15:00: Sweden v Switzerland - BBC
Tuesday 19:00: England v Colombia - ITV