Steven Gerrard: Rangers players needed extra time off to recover mentally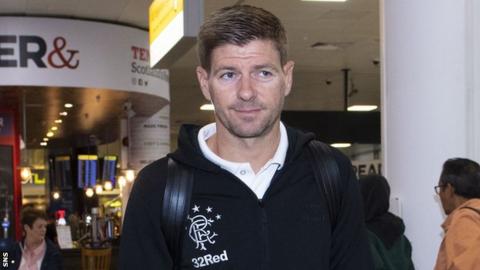 Steven Gerrard says he gave Rangers' players a few extra days holiday to help them recover emotionally from a traumatic season.
Gerrard took over after a campaign in which the Ibrox club finished third and dispensed with two managers.
"They have been battered from pillar to post and been criticised really heavily," the manager told Rangers TV.
"It was a tough season mentally with the players, so we wanted to give them extra time off with their families."
Gerrard is pleased with the way his squad responded physically to cramming two weeks of pre-season training into 10 days.
"I think I am slightly ahead, certainly from a fitness point of view," he said.
"But, to do that, we had to make sure that this 10 days was really tough and we pushed them.
"They have actually over-delivered in terms of the numbers they have given us back physically, so from a fitness point of view, I am delighted.
"And, from a technical and tactical point of view, I think we are where I wanted us to be.
"The idea was to take time in terms of getting the messages and the philosophy over to the players.
"A lot of them are bright and a lot of them have taken it on-board quicker than others.
"But I suppose I am satisfied in terms of the football side of it, but I am very confident we will be ready when we need to be."
While pleased about fitness levels, Gerrard stressed that he would be demanding tactical improvements before the season begins.
"That isn't going to happen in eight or nine days," he said. "It is something we will have to build over time, but the important thing in these eight or nine days of pre-season was to really get things over to them slowly in terms of the three phases of the pitch."
Gerrard also praised the academy players who travelled to Rangers' training camp in Spain.
Left-back Matty Shiels, centre-half Aidan Wilson, winger Serge Atakayi, wingers Glenn Middleton, midfielder Stephen Kelly and striker Zak Rudden all joined the first team.
"They have been fantastic," Gerrard added. "They have been professional, they have given everything they have got and I am really excited by a few of them too.
"We have had six really good ones with us here and I have a bit of thinking to do in terms if I keep a few of them around the first team squad."