World Cup 2018: Your best and worst players of the group stage
Last updated on .From the section World Cup
It has been up there with one of the most dramatic group stages in World Cup history.
Defending champions Germany are out, England have sailed through to the knockout stage while the opening games were packed with goals, penalty saves and VAR drama.
We asked you to pick your best XI of the group stage, using our team selector, and here are the results.
Who did you pick?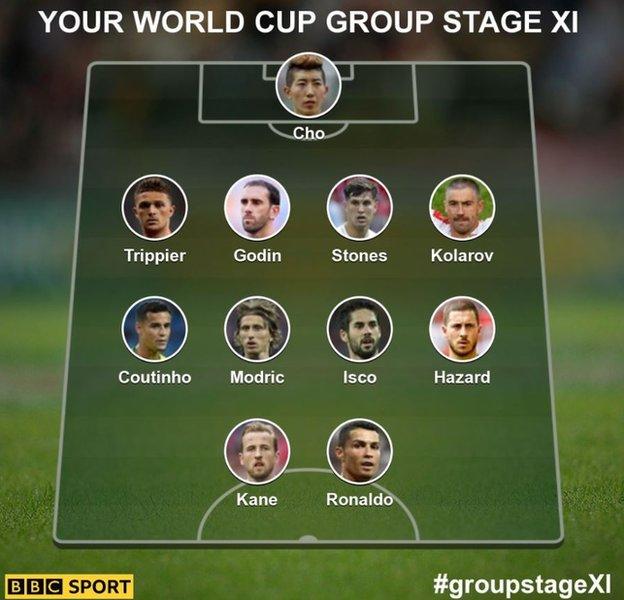 Three of Gareth Southgate's England team have made it into the line-up - Kieran Trippier, John Stones and Harry Kane, with Kane being the most popular player.
Alongside him up front is Portugal's Cristiano Ronaldo, one goal behind Kane in the race for the Golden Boot. Belgium and Chelsea's Eden Hazard is in, as are ex-Tottenham player Luka Modric of Croatia and former Liverpool midfielder Philippe Coutinho of Brazil, while Spain's Isco completes the midfield.
Ex-Manchester City defender Aleksandar Kolarov scored in Serbia's 1-0 win over Costa Rica and he is in at left-back with Uruguay defender Diego Godin in at centre-half.
South Korea's Cho Hyun-woo is in goal after a fine performance helped his country knock out reigning champions Germany.
The top five players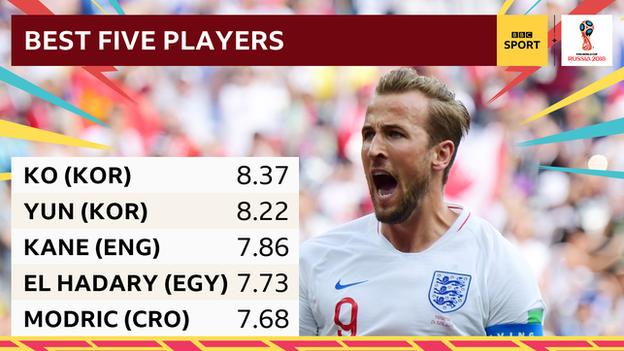 Throughout the group stage you have been rating the players using the BBC Sport player rater.
We have crunched the data to see who you think have been the best and worst players so far.
Well, we didn't expect to see two South Koreans at the top of this list!
When taking an average of the players' scores across the three games, South Korea's Ko Yo-han and Yun Young-sun have the two highest scores.
Ko's score of 8.37 is the highest average of any player but that may be because you got a little excited by South Korea's win over Germany. The 11 minutes Ko played as a substitute in that game was his only appearance of the tournament.
England striker Harry Kane comes in third on the list with an average of 7.86 - the highest of any player to have played in more than one game - with Egypt's 45-year-old, penalty-saving goalkeeper Essam El Hadary fourth.
Croatia's midfielder Luka Modric is fifth with a score of 7.68.
The best performances
Once again South Korea feature prominently here.
The highest rating for any player in a single match goes to South Korea's goalkeeper Cho Hyun-woo, who scored 8.85 for his performance against Germany.
He is followed in the list by Tottenham forward Son Heung-min for his goal-scoring showing in the same game for which you rated him 8.75 out of 10.
In fact, the top 14 scores from the third round of matches in the group stage were the 14 South Korean players to play against Germany.
Third place in the list of best performances so far goes to Kane for his hat-trick in England's thrashing of Panama, while Jesse Lingard's performance in the same game sees him take fourth and fifth goes to Modric for his dominant goal-scoring display against Argentina.
Team of the group stage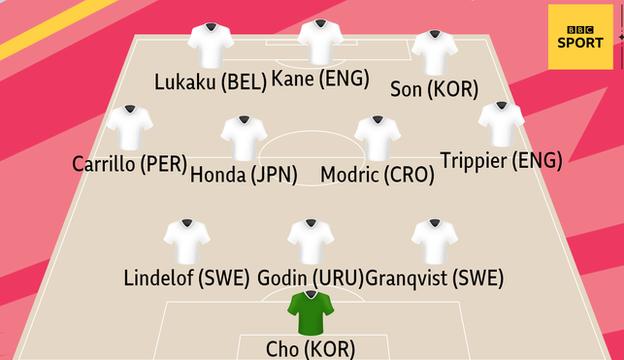 Two England players, Kane and wing-back Kieran Trippier, make it into your team of the group stage XI, which is made up of the players with the highest average to have featured in at least two matches.
Cho and Son's performances against Germany get them in while Belgium striker Romelu Lukaku, who has scored four goals so far, is one of the three best forwards.
Surprise inclusions in your XI include Peru winger Andre Carrillo and Japan midfielder Keisuke Honda.
Sweden progressed through top from Group F which included Mexico, Germany and South Korea and, as a result, centre-backs Victor Lindelof and Andreas Granqvist make your team.
The worst performances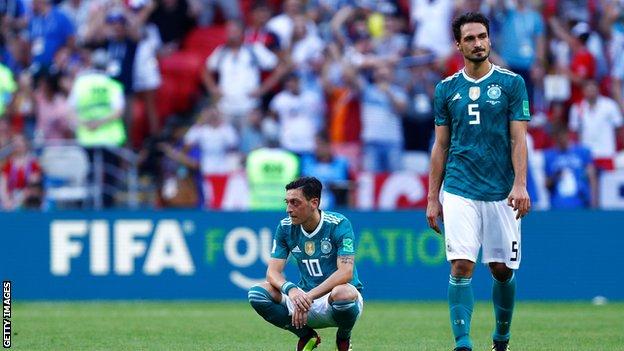 Warning - this section makes painful reading for Germany fans.
Three of the lowest five ratings in the group stage go to German players during their defeat against South Korea.
Midfielder Sami Khedira was given 2.25 - the joint-lowest score overall, tied with Panama defender Roman Torres from their thrashing by England.
Germany's Thomas Muller was next with a score of 2.27, followed by his teammate Timo Werner, with another Panama defender Fidel Escobar fifth.
Other Germans you punished were Leon Goretzka (2.41), Manuel Neuer (2.59) and Mats Hummels (2.60).
Ouch.
Rashford gets your pick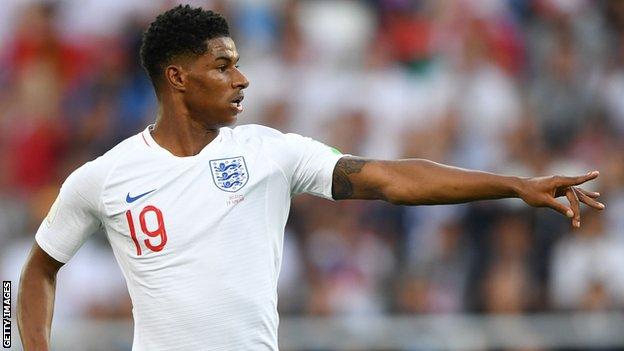 England may have disappointed in losing their final group game to Belgium but over the group stages you still think Marcus Rashford has done enough to start ahead of Raheem Sterling against Colombia in the last 16.
The Manchester United striker has a rating of 5.69 compared to Sterling's 4.71.
Your ratings also tell Gareth Southgate that Ruben Loftus-Cheek has done enough to start in midfield in front of Dele Alli with a average rating of 6.28 compared to 5.06.
Elsewhere, those brought in by Southgate against Belgium failed to do enough to earn a starting place.
Midfielder Eric Dier finishes the group stage with a lower rating than Jordan Henderson while the battle for the left wing-back position goes in favour of Ashley Young who has a rating of 5.62 compared to Danny Rose's 5.39.