World Cup 2018: Harry Kane - the making of England & Tottenham striker
Last updated on .From the section World Cup227
Club legend. England captain. World Cup Golden Boot winner?
With 108 goals in 153 Premier League games, Harry Kane has firmly established himself as one of the division's leading strikers.
Now, handed the armband by manager Gareth Southgate, the 24-year-old has set his sights on firing his country to glory on the global stage.
He is already this World Cup's leading scorer with five goals from two games, and will be the player England look to for inspiration when they face Colombia in the last 16 on Tuesday.
From being rejected by Arsenal and Watford as a youngster to learning his trade on loan in the Football League, the Tottenham player has earned his spot in the limelight.
Those who know him best tell BBC Sport how he did it.
From safe hands to hot-shot striker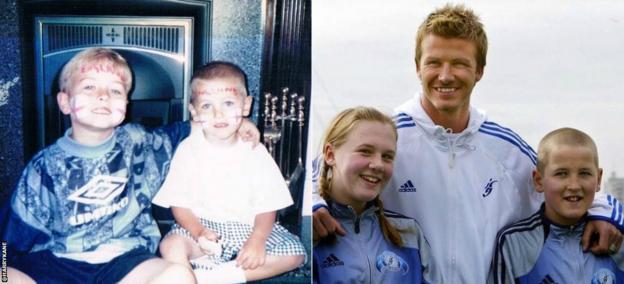 When a six-year-old Harry Kane arrived for trials with Ridgeway Rovers in 1999, the youth side - who a generation earlier had produced David Beckham - thought they had found themselves a new goalkeeper.
Dave Bricknell, former Ridgeway Rovers coach and now Tottenham scout: "We're doing a little shooting session, and I ask for a lad who can go in goal.
"This little boy puts his hand up and says: 'I'll go in goal.' We give him some gloves, and he performs heroics - makes some fantastic saves. He's tipping it round the post, tipping a couple over the bar.
"I'm thinking this is great, we've got a goalkeeper. And then this woman came up to me and said he's better on the pitch.
"We put him on pitch and he smacked goals in left, right and centre. So he ends up being our centre-forward."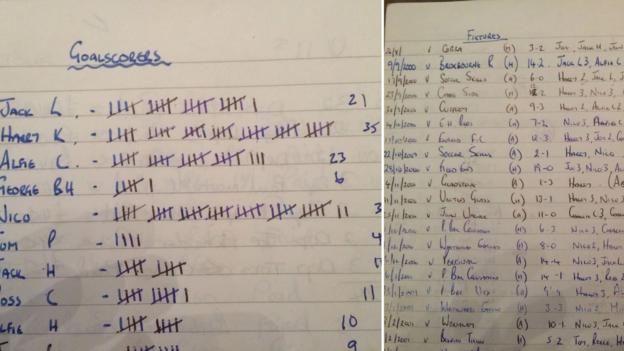 Kane's prolific form for Ridgeway Rovers and his Waltham Forest district side caught the attention of professional scouts. Arsenal initially snapped up the youngster but decided not to keep him, while Watford also passed up the opportunity to sign Kane.
Trevor Bailey, Kane's manager at Waltham Forest: "Harry could have done nothing all game, but if that chance came up it was in the onion bag.
"He was always on the move up front. When he got a chance, guaranteed four out of five he was going to score or set someone up."
Bricknell: "Even when he was six, Harry could hit the ball like a 10 or 11-year-old. He could strike it clean, with both feet, he didn't worry which side it was coming to him.
"He could see a pass, he could play. He had good touch, but his main attribute was he had major confidence in himself.
"He would score lots of goals, but if it went wide he wouldn't worry about it - he'd just go and get his next chance and try to score again.
"He had a couple of seasons and the scouts started turning up. Arsenal took a couple of our boys in, and he got signed as an under-nine."
Alex Welsh, former academy coach at Arsenal: "I first met Harry in the academy and he was a very competent goalkeeper, but his real desire was to score goals.
"I am absolutely convinced that is the reason why he is such a clinical striker - he intuitively knows what the goalkeeper doesn't like.
"He shoots early when the goalkeeper's not set, he shoots around players, through legs, all the things a goalkeeper hates."
Bricknell: "I believe he was second top-scorer at Arsenal behind Benik Afobe, and then for some reason they decided at 11 years of age that they didn't want him anymore."
The 'model student' with a Beckham Mohican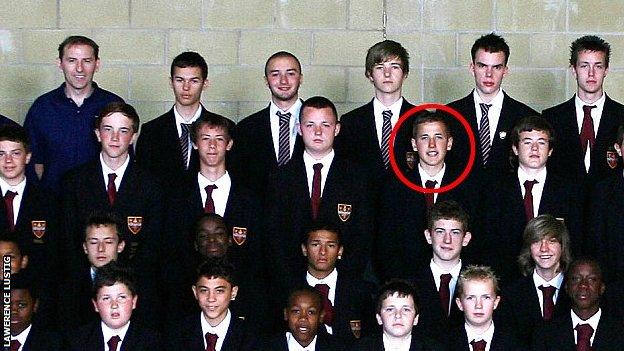 Kane attended Larkswood Primary Academy before moving to Chingford Foundation School, where he was inevitably the star of the football team. But, as a dedicated student, Kane impressed his teachers across the board.
Mark Leadon, Kane's PE teacher: "Aged 11 Harry was technically very gifted, with a great first touch, and a very clever player. He always knew where to go, right from an early stage.
"He was also a very good cricketer - he opened the bowling from year seven to 10 and batted at four or five. But he loved football. He was never a prima donna, and he would always put a shift in. Some students think they're better than others, but not him.
"What came through more than anything else was his determination to succeed. That work ethic was clear. Even as a youngster, you could see he was driven through not just sports but all other subjects.
"He was a model student. He excelled at sport, but any teacher in any subject would not have a bad word about Harry. He was very conscientious. Across the board he was a very dedicated boy."
Luke Robinson, Kane's childhood friend and team-mate: "The only thing on his mind was football, and his family were behind him.
"We used to have a laugh, a couple of games of Fifa, but he was always driven. He'd always keep himself to himself.
"He loved David Beckham, he came in with the Mohican, everyone was laughing but he loved it. He loved football, 24/7, he lived and breathed football.
"You get to 15, 16 and you've got girls, drinks, partying - you'd see Harry jogging around the park, doing his exercise, playing football, watching football, just studying the whole game."
'Gold medallist? He wasn't even on the podium'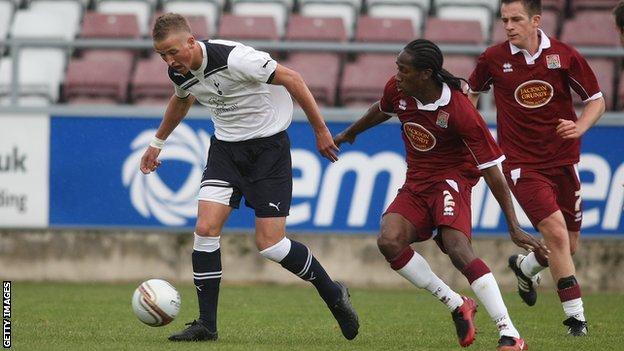 It was Tottenham Hotspur who offered Kane hope after his earlier disappointments, but the future England captain was by no means the pick of the bunch for his age group. However, at school level he was already showing the signs of maturity and leadership that have come to the fore in Russia just under a decade later.
Alex Inglethorpe, former Tottenham youth-team coach: "When I joined Spurs as under-18 coach, Harry was 13. Part of my remit was to work with the under-14s, so every Wednesday evening we'd get together.
"I'd like to say he was the gold medallist in the group and we'd all spotted he was going to be the fantastic player, but I'd be lying. He probably wasn't even on the podium.
"He had a lovely technique - an ability to pass and receive and shoot - but if there was something that endeared him to you it was that he was very, very low maintenance.
"He had a lot of growth to come. He was quietly unassuming and had a desire to improve. He had attributes more around character and technique."
Leadon: "By Year 11 we managed his time more. Because we knew he was going to sign for Tottenham, we only played him in the big games - County Cup, Essex and London cups.
"We played without him in the Borough Cup, but we got to the final and were going to play our strongest team with Harry.
"He came to us and said he didn't think it was right, please could he be sub, because the guy in his place had done really well."
'An obsession to improve'
Kane's desire to learn and improve endeared him to the Tottenham academy staff and he signed scholarship terms with the club on his 16th birthday in July 2009.
Inglethorpe: "It became fairly evident when Harry became a scholar he was someone who could finish. He wasn't great with his head and wasn't great on his left side, but he was his own best coach.
"He was wonderfully demanding to coach because he always wanted to stay out and do extra.
"It was always 'come on, five more' or 'just a few more finishes'. My role was a very easy one: it was to get the ball out of the bushes and start again.
"We just had to keep giving him opportunities to get good at what he needed - to get better at heading, get better on his left side. That obsession to improve is undoubtedly his greatest strength.
"It was probably around 16 he started having an impact on the youth team. We trusted him to come off the bench and have an impact - anywhere from right wing, number 10, centre-forward, sometimes in midfield."
Living the loan life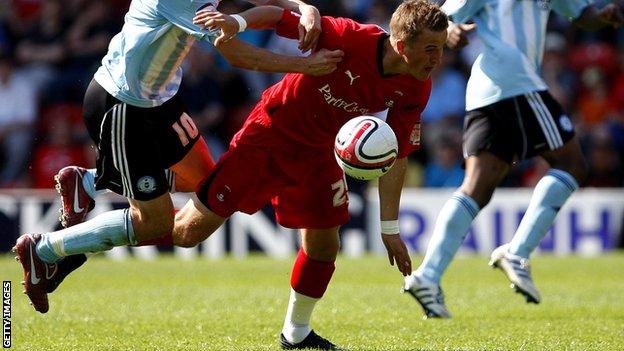 Having established himself as one of the most important players in Spurs' Under-18s side, and twice being named on the bench for the first team in cup games, the club's youth staff, including then under-21 coach Tim Sherwood, decided the next step for Kane was to gain experience on loan. League One Leyton Orient would be the young striker's first destination.
The 17-year-old was handed his professional debut in January 2011 at Rochdale, coming on for veteran striker Scott McGleish. Kane would score five times in nine starts.
McGleish: "Harry was not like other Premier League players, where you feel they're going to come in 'Billy Big Time'. He wanted the experience of learning what I call men's football.
"He could play the 18s and the 21s, but he wanted to learn - and from the word go he was ready to fight for his place. In training, he was willing to learn from everybody, and even more importantly willing to just knuckle down and work hard.
"You could see in training and subsequently the matches he had ability and a desire to go further, but you're still looking like a young 17-year-old: very slight, still needing to physically develop, not the quickest but technically excellent.
"He was ready to take the step down, to play in League One where it is a little bit more physical rather than technical."
Debut disappointment to dazzling at the Den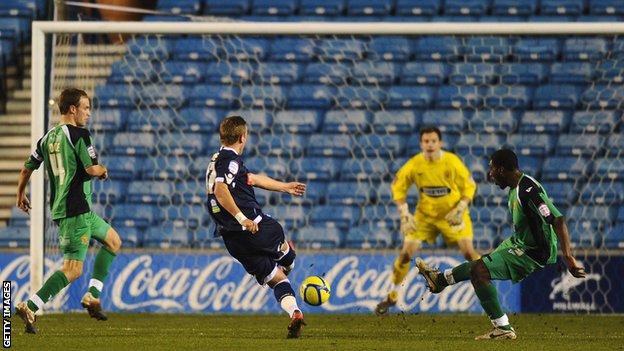 With a spell of first-team football under his belt, Kane was given his chance at Tottenham. The 18-year-old missed a penalty against Hearts on his debut at White Hart Lane, but played six times in the Europa League before Christmas and eventually got off the mark against Shamrock Rovers. Spurs opted to send the teenager out on loan again in January 2012, to Championship strugglers Millwall. Kane's nine goals helped save Kenny Jackett's side from relegation.
Former Millwall defender Alan Dunne: "I've seen a lot of players come to the Den and freeze, because within five minutes they're being called names they've never heard before and they can't cope with that pressure.
"But it didn't faze him - he was a focused lad, he was confident in his ability. It was a challenge to him, and a challenge he rose to.
"Harry realised at Millwall you need to have a little bit of aggression in you, have a little bit of pride and show you want to wear the shirt."
Sherwood: "I used to watch Harry a lot at Millwall, and it was an intimidating atmosphere. I remember overhearing one of our scouts come and talk to Harry Redknapp - who was Spurs manager at the time - and say: 'We need to get Harry Kane out of Millwall, it's no good for him there.'
"I went straight in and said: 'This is the perfect atmosphere for him. We don't want him to be in a comfortable environment, we want him to be playing under pressure all of the time.'"
'An intelligent player - like Sheringham'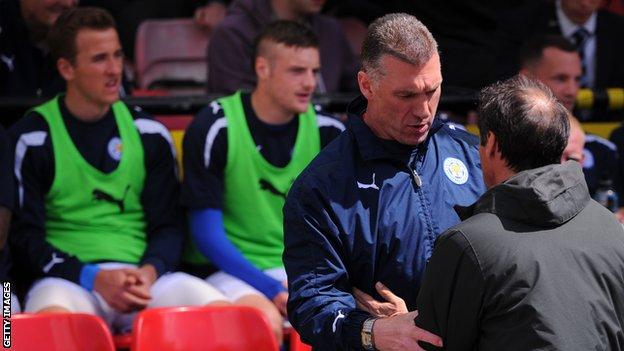 After making his Premier League debut for Tottenham in August 2012, Kane was sent on loan again. The 19-year-old only made three appearances in the top flight for Norwich because of injury, so after a brief spell back at Spurs he joined Championship promotion hopefuls Leicester.
Dunne: "Leicester came to the Den. We were winning 1-0. I remember Kane coming on and I thought, 'right, this could be trouble'.
"I jogged over for a whisper in his ear. 'Harry, you go near that ball and I'm gonna smash you…'
"He didn't really look at me. He didn't even shrug his shoulders. I kept trying to wind him up and wind him up and I couldn't get anything from him."
Kane, and future England team-mate Jamie Vardy, found starts limited at Leicester with Chris Wood and David Nugent Nigel Pearson's first-choice strike partnership. But that summer he was picked for England's Under-20 World Cup squad, drawing comparisons with former Tottenham and England forward Teddy Sheringham.
Former England Under-20 coach Peter Taylor: "The impression I got was firstly what a nice boy you are, and secondly that you're not going to have regrets at the end of your career, because you're going to give it everything you have to be a player.
"I've dealt with League One and League Two players, and you might have to keep reminding them about things. Harry you only had to tell once. He's a very intelligent player.
"He would enjoy every training session, but only if it had reason. Teddy Sheringham used to be like that. 'Why are we doing this?' Harry thought about every session.
"I would be amazed if he didn't finish every season and say: 'Right, what did I do well, what could I have done better?'"
Off the mark for Tottenham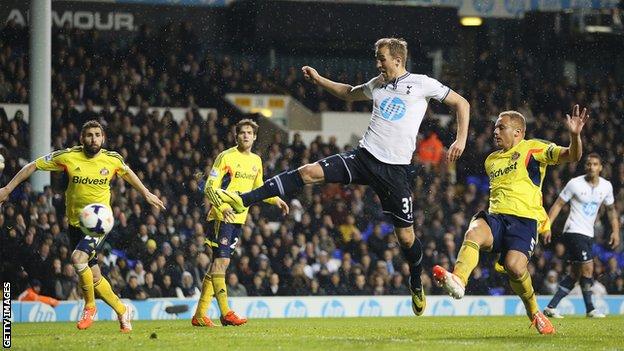 After four loan spells in three seasons, Kane spent the entire 2013-14 campaign with Tottenham. But it was not until April, after Andre Villas-Boas had been sacked and replaced by Sherwood, that a 20-year-old Kane was handed his first Premier League start for Spurs, scoring his first top-flight goal in the process against Sunderland and also netting in the following two games against West Brom and Fulham.
Sherwood: "It didn't feel a gamble at all to give Harry that start. It was almost overdue to be honest.
"Roberto Soldado was in front of him in the team, and nobody wanted Roberto to do well more than me - but every single day in training Harry was outperforming him.
"After probably three weeks, I decided I had to make that change and I had to bring Harry into the team. He didn't let me down.
"Harry wanted to get the top, and nothing was going to stop him achieving that because of the ability, desire and mentality he possesses.
"He needed to work on sharpening his feet up around the box, so we spent a lot of time doing sessions where he had to move his feet a little bit quicker, open the space and shoot off both sides.
"But he also had that knack of being aware of players around him, and the intelligence to slide people in. He could see a pass and he could execute it.
"I was the biggest believer Harry Kane ever had, because I used to think he was a mix between Teddy Sheringham and Alan Shearer. It's a big accolade, but I think it's the right one."
'Now everyone wants to be Harry Kane'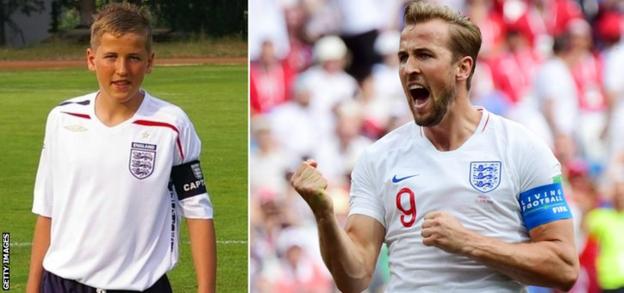 The rest is history in the making... Kane scored 21 top-flight goals the following season - earning his first England call-up in March 2015 - adding 25 and 29 in the next two campaigns to claim successive Premier League Golden Boot awards, and netting 30 times last time out. Five years ago he was sitting on the bench for Leicester in the Championship, now Kane leads his country into the last 16 of the World Cup.
Bricknell: "It didn't really work out at Norwich or Leicester, but it didn't affect his confidence. He came back to Spurs, played a couple of games, missed a penalty - some kids would crumble. He's shown tremendous resolve to get where he is today."
Inglethorpe: "I'm not a believer in it all being natural. I believe in working talent, and Harry is a working talent. It's like any skill; if you're determined to acquire it, you will.
"He is someone who has realised if you want to score a volume of goals, you have to be able to score with right foot, left foot, one on one, outside the box, inside the box, with your head. He's taught himself to do that - and he's still as obsessive now as he was then."
Tottenham and England team-mate Danny Rose: "I see him every day. I get to see how hard he works. It's going to be very exciting to see the records he's going to break, not only in this competition but in the Premier League, and he deserves everything he gets."
Robinson: "We used to play in the playground and everyone wanted to be David Beckham. Now everyone wants to be Harry Kane."
2018 Fifa World Cup last 16
Venue:
Russia
Dates:
30 June - 3 July
Coverage:
Watch live on BBC TV, Red Button and iPlayer, BBC Sport website and app; listen on Radio 5 live; follow text updates online