World Cup 2018: Switzerland trio avoid bans for 'eagle gesture' goal celebrations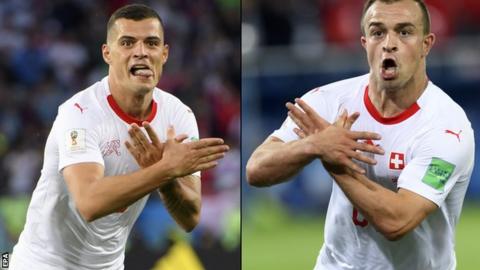 Switzerland's Granit Xhaka, Xherdan Shaqiri and Stephan Lichtsteiner have avoided bans for their 'double-headed eagle gesture' celebrations in their side's World Cup win over Serbia.
Fifa fined Xhaka and Shaqiri 10,000 Swiss francs (£7,632) and Lichtsteiner SFr5,000 (£3,816) for "unsporting behaviour" for the gesture, which symbolises the Albanian flag.
Xhaka and Shaqiri are ethnic Albanians from Kosovo, where a Serbian crackdown on the Albanian population ended with Nato military intervention in 1999.
Serbian Football Association president Slavisa Kokeza and Serbia head coach Mladen Krstajic were each fined SFr5,000 for their comments after Friday's 2-1 defeat.
Kokeza gave an interview to the BBC in which he accused Fifa, football's world governing body, of bias against his country.
The Serbian FA was also fined SFr54,000 (£41,217) for the behaviour of fans during the game - the display of discriminatory banners and the throwing of objects.
Arsenal midfielder Xhaka and Stoke City forward Shaqiri scored as Switzerland came from a goal down to beat Serbia.
Xhaka's father spent three and a half years as a political prisoner in Yugoslavia, while Shaqiri was born in Yugoslavia before emigrating to Switzerland as a child.
"It's just emotion," said Shaqiri, who had a Kosovan flag stitched onto his boots. "I'm very happy to score this goal. It's not more. I think we don't have to speak about this now.
Switzerland captain Lichtsteiner, a new signing for Arsenal, made the gesture after Shaqiri's 90th-minute winner.
Analysis
Imogen Foulkes, BBC Geneva correspondent
Switzerland heaved a collective sigh of relief this evening. To have three top players banned when the World Cup campaign had started so well would have been a catastrophe.
That eagle celebration was discussed all weekend here. Among the older generation there was some disapproval: if you're Swiss, the thinking goes, you are neutral and shouldn't really display any emotion, let alone something nationalistic.
But among younger Swiss - those who grew up with boys and girls with Kosovan or Bosnian roots - there has been support, especially when it became clear that some fans in Kaliningrad had been wearing t-shirts bearing the faces of the convicted war criminals whose actions drove families like the Shaqiris or Xhakas from their homes.
The players can relax now and focus on what really matters: the next match. But however well that goes, lessons have been learned. We are unlikely to see any more eagles.