Safe standing: Sports minister Tracey Crouch commissions official review into issue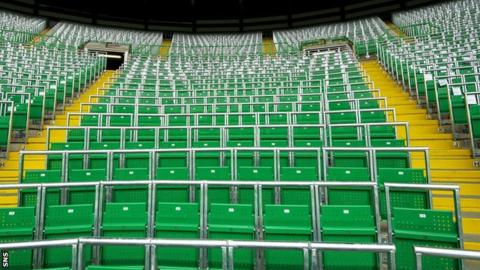 Sports minister Tracey Crouch says her "mind is open" on safe standing as she commissioned an official review of the issue, adding she has been "scarred" by threats on social media.
The MP was speaking at a Parliamentary debate on safe standing, which came after a petition was signed by 112,000 people calling for its introduction.
Crouch apologised for saying only a "vocal minority" wanted standing areas.
But said she had been threatened with "physical and sexual violence".
Before the petition that led to the Parliamentary debate, the government said in May there were no plans to change the all-seater policy after West Brom had a safe-standing proposal rejected.
After that decision, Crouch was accused of "declaring war on fans" by the Football Supporters' Federation.
Standing in English football's top two divisions was outlawed by the Football Spectators' Act in 1989.
It came following recommendations made in the Taylor Report into the Hillsborough disaster, which claimed the lives of 96 Liverpool fans.
"Contrary to reports on social media, my mind is open on future of the all-seater policy," said Crouch on Monday.
"I felt so disappointed with my own loose language on safe standing, that rightly led to outrage, but then sadly turned into abuse and threats.
"I feel really scarred by the response received on social media."
The review, which will be completed by the end of the year, will analyse existing evidence and look to identify any missing data - working with footballing authorities, leagues and supporters' groups.
"At the moment, we don't have data or evidence to make a decision either way on this issue," added Crouch.
"Change cannot and should not happen overnight on something as serious as football ground safety."
West Brom, who have been relegated to the Championship, proposed a pilot scheme to convert 3,600 seats into 'rail seats', which can be locked in an upright position.
Crouch said that would have required a law change, adding: "The legislative framework as it is currently set out means I cannot allow for any pilots. There is no wiggle room - it is either the status quo or change the legislation."
The Football Supporters' Federation said: "The fans will look forward to seeing the detail of the review and it is encouraging that there's a commitment to working with supporters groups alongside the football authorities.
"This isn't an issue that is going to go away. Supporters back the choice to sit or stand as standing is so central to generating the best possible atmosphere at football."