Sam Ricketts: Wrexham will sign the 'right players' says manager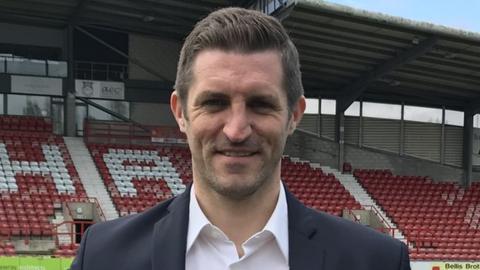 Wrexham manager Sam Ricketts says he is confident of making further additions to his squad "fairly shortly".
Former Wales and Bolton Wanderers defender Ricketts was appointed manager of the National League club at the beginning of May.
So far ex-Torquay United midfielder Luke Young has been Wrexham's only new recruit of the close season.
"Trust me, the signings will come and they will be good players," Ricketts told BBC Wales Sport.
"I'd like to get some in soon but like anything it is when the time is right.
"I've got a list of targets and it's all in hand. It's just as and when the right players become available and we'll be ready to snap them up.
"Hopefully there'll be one or two coming in fairly shortly."
Ricketts is also looking to appoint an assistant manager after Andy Davies left the club in May to link up with former Dragons boss Dean Keates at Walsall.
But Ricketts is prepared to bide his time before making the right appointment.
"I'm looking well down the line with it. I've got a couple of options," added the ex-Wolverhampton Wanderers, Hull City and Swansea City player.
"I'd rather take a bit longer and get the right person.
"It's all about the right people, the right character and what they are going to bring to the group and what they are going to bring to the football club to make Wrexham successful."
Wrexham returned to pre-season training on Monday and their preparations for the new season will include a training camp in Portugal in July.
"It's great to get all the players out working and start implementing a few basic ideas of how I want to play this year," Ricketts said.
"It's a gradual build-up in terms of fitness, the tactical element of the game, the mentality of the players as well.
"We're not trying to hit the players full whack on the first day - it's a gradual build up. The season's a marathon, not a sprint."