World Cup 2018: Sweden, Denmark & Iceland 'don't care' about criticism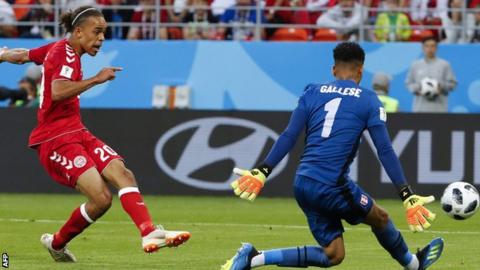 Style or substance? That seems to be the question facing the Nordic nations at this year's World Cup in Russia.
Sweden, Denmark and Iceland can all reach the last 16 but have been criticised for a negative approach.
Despite being unbeaten, Denmark's own fans have been unhappy with their style of play while Danish press have described their displays as lacklustre.
"I think it's quite good to be unbeaten in 17 matches, so what do people want?" said coach Age Hareide.
Although Denmark were surprise winners of Euro 1992 under Richard Moller Nielsen, the free-flowing side that played at the 1986 World Cup - featuring the likes of Preben Elkjaer Larsen and Michael Laudrup - is more fondly remembered by many Danish fans.
"If we had won against Australia I think people would perhaps still have been critical," said Hareide, an ex-Manchester City and Norwich defender who won 50 caps for Norway.
"I knew it was a picky football country when I arrived because the Danes like to call themselves the Brazilians of Scandinavia!"
Argentina's Lionel Messi criticised Iceland, the smallest nation ever to qualify for the World Cup, after they held the two-time winners to a surprise 1-1 draw.
"People can have their opinion about it, but we really don't care," said Iceland's goalscorer Alfred Finnbogason.
"We could have played attacking football, Messi would have been happy, and they would have won 5-0. But we play our way and it's brought us success."
Germany then complained about Sweden's tactics as the holders needed a last-gasp winner to beat Janne Andersson's side.
"Why should we play in a way that's not advantageous to us?" said Sweden's Sebastian Larsson.
Hakan Mild, who helped Sweden finish third at the 1994 World Cup, added: "It's about playing to your strengths and trying to win. You play in a way that gives you the biggest chance of winning.
"It's hard to criticise a country like Iceland with only 350,000 people. They play quite primitively on occasion, but that doesn't mean they are bad players. You have to adapt when playing against these better teams to try to win the game."
Denmark's style has changed since Hareide succeeded Morten Olsen as coach in December 2015.
"Denmark have played a lot of long balls recently, and we're not used to seeing that with them, but they can vary it," Hakan added. "It can be hard to switch mentally from playing long to holding on to the ball, but Denmark have the players to do that.
"If you're only playing long balls and they go out of play, it can get very frustrating. But Sweden and Denmark are such good teams that they are going to get chances.
"If you don't have good technique and good passing, you're not going to make it to the opponent's goal."
But that is something the Nordic nations have managed to do in Russia, meaning they still have plenty to play for in their final group games.