World Cup 2018: How I found the missing six 2006 stickers, by Radio 1's Chris Stark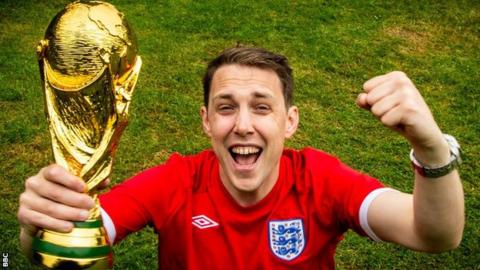 The 2006 World Cup still makes me emotional.
When my friend Ben Lowe and I had this idea to try to complete an old sticker album this was the tournament that stood out for us.
The Zinedine Zidane headbutt, the penalty heartache for England and that wink from Cristiano Ronaldo - it had it all.
And as it happened, the book we had was six stickers short.
Instead of just printing out the missing stickers needed to complete the album I decided I was going to try to meet the players in question, get their photo up close and then stick them in.
My epic quest produced a heap of good stories and the chance to put things right against a certain Portuguese goalkeeper.
In case you haven't seen the show yet, here are some of the lessons I learnt along the way.
Lampard digs himself a big hole
This sounds more controversial than it was - but it was definitely an embarrassing moment for Frank Lampard.
I had managed to gain access to the Match of the Day studios, mainly through a mix of being a presenter on BBC Radio 1 and, in a ridiculous move, befriending Alan Shearer.
The idea was to do a studio tour and then, if we got the chance, explain to Frank Lampard (one of our missing players) that we needed a photo.
Luckily Shearer put a text in to Frank and he was sound enough to hear us out.
It was mad being in the MOTD studio and sitting in the chair minutes before the show went out. I ended up having a good chat with Lampard and Gary Lineker, mainly about players miming the national anthem at the start of games.
But there was one amazing moment. Lampard was talking about the impact of 'WAGs' (wives and girlfriends) at the 2006 World Cup and dug himself into a bit of a hole…
The English World Cup winner… in 2006
I didn't know about this incredible fact until we started our search for Italian World Cup winner Simone Perrotta - at which point Mark Chapman told me Perrotta was actually born in Ashton-under-Lyne, near Manchester.
So we travelled there to see if we could find any of his friends or family. No joy - but what we did find was a statue dedicated to the midfield champion.
Sadly, he doesn't live there anymore so we travelled to Rome and tracked him down. He even let me try on his World Cup winner's medal! That is possibly the highlight of my life.
So although Italy won the tournament, I like to think we can claim Perrotta as an Englishman. Kind of.
ZZ ain't easy to find
It was always going to be hard tracking down Zinedine Zidane, who was still in charge of Real Madrid when I went looking for him.
We tried a number of ways to get hold of him through official channels but it just wasn't happening.
We decided to travel to Spain regardless and found the hotel the Real Madrid team would be staying in. I won't give away what happened but what quickly became apparent on this journey to meet Zidane was that the Real Madrid setup is FULL of baldies.
From the World Cup to faith healing
When I realised we needed two of the Trinidad and Tobago squad I was hopeful of a lovely trip abroad. What I didn't realise is that back in 2006 a large amount of their squad played in Scotland.
During the tournament, Scottish fans heavily supported them as they were drawn in the same group as England.
Jason Scotland even starred in an advert for a certain soft drink that was massive at the time.
Marvin Andrews was one of the players we needed for the album. He is actually now a minister at a church in Fife. His stories are INCREDIBLE.
How I learned to love Ricardo
I hated Ricardo.
The Portuguese goalkeeper broke my heart during Euro 2004. He even removed his gloves to save a penalty from Darius Vassell during the quarter-final shootout against England.
England then faced him again in 2006. Once again, there was penalty heartache. I hated this man.
That's probably a bit over the top but let's say I wasn't too fussed about meeting him.
Alan Shearer came through with a contact and we found him on a golf course in Portugal.
We sat down, had some wine, and chatted it all through. And you know what..? He was SUCH a top bloke. He loves English football and wants the national team to do well in Russia.
And to right a few wrongs we even had a penalty shootout.
England players love singing Three Lions
I've got to give (another) massive thanks to Alan Shearer.
He once appeared on our radio show and stupidly gave me his number. And to think, I used to pretend to be this man in the school playground!
He was the first person I messaged when I needed a bit of help with this mission and he really came through. He even drove me to the airport before I set off on my quest.
Of course we filmed it, and as good as it was talking we had a lovely moment when we both sang Three Lions. He's quite a good singer, I didn't expect it.
He told me how all the England players sang Three Lions on the team bus as they headed to Wembley during Euro 96. I love the thought of that. Turns out footballers really do care as much as us about the game we all love, and everything that comes with it.