Joe Thompson: Rochdale midfielder agrees new deal, Aaron Wilbraham signs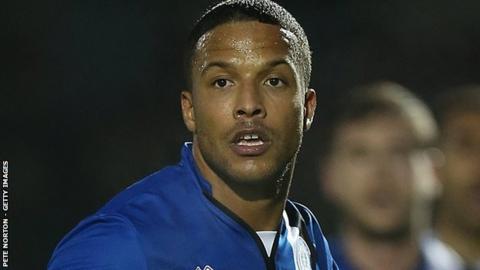 Rochdale's Joe Thompson, the man who scored the goal that kept his club in League One, has signed a new contract.
The 29-year-old midfielder, whose existing contract was due to expire on Saturday, has agreed a one-year deal.
Thompson has twice fought cancer after first being diagnosed with Hodgkin lymphoma while at Tranmere in 2014.
Calvin Andrew has signed a one-year contract extension, while fellow striker Aaron Wilbraham, 38, has joined Dale after being released by Bolton.
Wilbraham netted the winning goal for Bolton against Nottingham Forest, which preserved Wanderers' Championship status on the final day of the campaign.
Meanwhile, Andrew made 40 appearances for Dale in 2017-18.
Thompson 'over the moon' with new deal
Thompson returned to Rochdale, where he started his career, in 2016 but missed nine months after his cancer returned and came back into the side in December 2017.
But, in a fairytale finish to last season, he did not score until the final day when he got the only goal of the game against Charlton Athletic at Spotland to ensure Rochdale stayed in the third tier.
"I'm over the moon to have signed a new deal," said Thompson. "I remember the gaffer saying to me at the end of the season, 'you've climbed to the mountain top, so I bet you want to enjoy the view'.
"It's like anything, you've got to take some time, evaluate and spend time with your family. I went away and I realised that I'm not done.
"I had opportunities to do other things, whether it be in media or in public speaking, but it's every boy's dream to play football, so why give it up?
"All I have ever done is football since I left school. I also feel that I've maybe not reached my potential yet, because I've always had the reins on or been playing catch-up, so I'm excited for the future and I can't wait to get back out there."