Paul Lambert turns down approaches but waits 'for right thing' after Stoke exit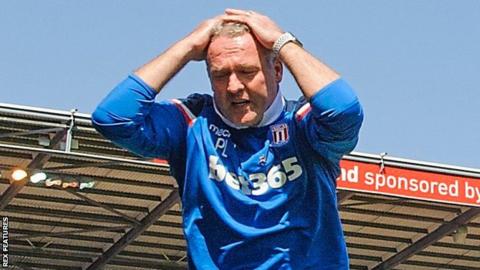 Paul Lambert says he has already turned down approaches for management roles after leaving relegated Stoke City at the end of the season.
But the 48-year-old former Scotland midfielder believes he can afford to be choosy about his next job.
"I've had one or two things thrown my way, but I've said I'm alright at the minute," Lambert told BBC Scotland.
"At least I've had the chance to go back in and I've turned it down because it was my own decision."
Lambert managed Livingston, Wycombe Wanderers, Colchester United, Norwich City, Aston Villa, Blackburn Rovers and Wolverhampton Wanderers before joining Stoke.
Seven months after exiting Wolves, he signed a two-and-a-half year contract in January with the Potters after the sacking of Mark Hughes.
Stoke lay 18th in the Premier League table and Lambert was unable to lift them out of the relegation zone as they finished one position worse off.
"Unfortunately, in our side of the business, you've got to wait for somebody to lose their job or leave their job," Lambert said about his next move.
"I'll wait for the right thing and see what happens.
"I'm fortunate that I can wait and see what's right for me."
Lambert realises that it can be dangerous to turn down opportunities as you can quickly find yourself being one of yesterday's men.
"That can happen, but it's not something I worry about," he said.
"If it's not for me, I'll just go for the next one."
Lambert, who won the Champions League with Borussia Dortmund in 1997 as a player, would consider jobs outside the UK.
"I was fortunate enough to play abroad," he added. "So going abroad doesn't faze me at all.
"It's good experience to go and work elsewhere."