World Cup 2018: Sweden's Jimmy Durmaz says racial abuse 'passed limit'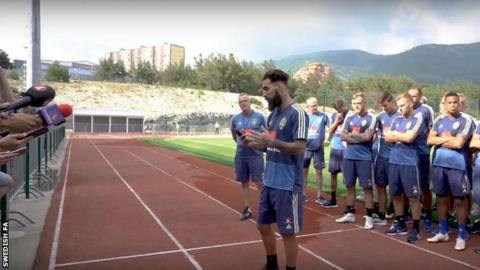 Winger Jimmy Durmaz says the racial abuse he has received after Sweden's last-gasp World Cup defeat by Germany is "completely unacceptable".
Durmaz, 29, gave away the free-kick from which Toni Kroos scored the winner and almost immediately threats began to appear on his Instagram account.
The Swedish FA reported the abuse to police on Sunday and the squad stood behind Durmaz as he read a statement.
"I'm prepared to take criticism - but the limit was passed," he said.
Durmaz, who plays in France for Toulouse, was born in Sweden to Assyrian parents who had emigrated from Turkey.
Before Sweden's training session in Gelendzhik on Sunday, the rest of the squad and coaching staff stood behind Durmaz as he read a statement, which was filmed by the Swedish FA.
"When you threaten me, when you can call me a terrorist, then you have gone far beyond the border," he said.
"And even worse, when you threaten my family, my children - who does such a thing? It is completely unacceptable.
"I am proud to play in the Swedish national team and I will never let any racists destroy that pride. We must all avoid all forms of racism.
"At the same time, I would like to thank all those who supported and showed their love. Continue to support Sweden. We need you."
Coach Janne Andersson added: "We in Sweden's national team, players and leaders, stand 100% behind this statement."
Durmaz came on against Germany after 74 minutes and in injury time fouled Timo Werner just outside the penalty area.
"It was unlucky," said fellow Sweden substitute John Guidetti. "It's completely idiotic to subject him to hate for that."
A draw would have left Germany on the brink of an early exit, but they are now level on points with Sweden heading into their final Group F match against South Korea on Wednesday.
Sweden, who face group leaders Mexico in their third game, were angered by the way Germany celebrated. Fifa's disciplinary committee has since opened proceedings against German officials Ulrich Voigt and Georg Behlau.
"Some of them celebrated in a disrespectful way," said Sweden substitute Pontus Jansson. "There was a lot of feelings. We had just let in a goal and lost the game, so it was pretty sour.
"They apologised afterwards so it's just a case of accepting it. Obviously we're angry and sad but we need to reload and do it in the next game."