Burnley will want to set down a marker against Aberdeen, says Graham Alexander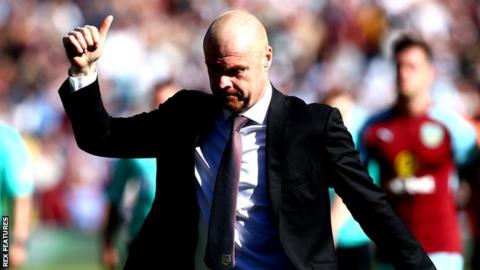 Former Burnley full-back Graham Alexander says manager Sean Dyche will ensure Aberdeen's opponents take the Europa League seriously.
Some English clubs have been accused of treating the competition lightly.
But the Clarets are ending a 51-year absence from European competition.
"If I know anything about Sean, he'll want to make his mark in Europe as well," Alexander told BBC Scotland. "He'll be taking it ultra-serious and it'll be a tough fixture."
Aberdeen will host the first leg of the second qualifying-round tie on 26 July and Alexander thinks Burnley will benefit from being at home for the return on 2 August.
The former Scotland full-back, currently manager of National League side Salford City, also believes both teams will have preferred a trip abroad to face easier opposition at such an early stage.
"You know what England-Scotland games are like - it is always going to be competitive and aggressive," he said.
"But, over the two legs, personally I would expect Burnley to do the business."
Burnley surprised many by finishing seventh in the Premier League last season.
"I speak with Sean every now and then - I played with him in our younger days - and what he's achieved in the five years he's been there is amazing," Alexander said.
"Last season took everyone by surprise - even himself I think - getting into the European positions.
"It's a monster now, that league, with the finances involved. I see Burnley are linked with a £12-15m move for Jay Rodriguez, who was there as a young kid of 18-19 when I was there.
"He went away and had a great career and now they are buying him back for massive money and that's the way the Premier League's gone. They can shop away for the best.
"Burnley know that they are not going to get the top Premier League players, but they are still going to get a fantastic group of players and what they did last season was unbelievable."
Derek McInnes' Dons fought off Rangers' challenge to be runners-up to Celtic in the Scottish Premiership for a fourth year in succession.
"I know what Derek's like as well and what Aberdeen have done in the last few years, they are extremely competitive," Alexander said.
"It is a game against an English team, against a Premier League team, they have done some fantastic things and it will be a bit of a marker for them.
"If they can get a couple of great results against them, it sets the bar for the rest of the season.
"They'll know everything about Burnley. But, vice-versa, Burnley will know everything about Aberdeen."
Former Aberdeen manager Craig Brown, now a club director, also admitted that Burnley will start as favourites.
"It is a very tough draw," he said. "The Premier league in England, we have to concede, is a level higher than our top league.
"But it is not impossible, I can assure you, because Aberdeen are capable - they can raise their game against good teams and they've done it against good teams in the last few seasons."