Ziggy Gordon chooses Hamilton return after leaving Pogon Siedlce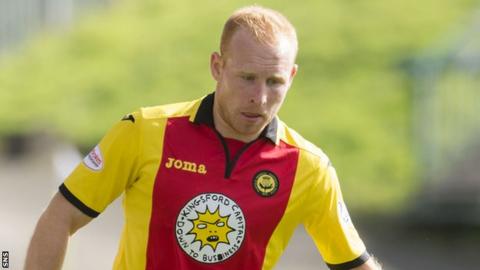 Loyalty to manager Martin Canning has led Ziggy Gordon to choose a return to Hamilton Academical instead of Scottish Premiership rivals after two seasons in Poland.
The full-back has agreed a one-year contract after leaving Pogon Siedlce.
"I was fortunate and flattered when I did make the decision to come back to be contacted by some very articulate and persuading managers," he said.
"But I've got a great allegiance to Martin Canning."
Having come through the Accies youth ranks, Gordon was part of the same defence as Canning before the centre-half took over as manager in 2015.
Gordon moved on to Partick Thistle the following season before joining Jagiellonia Białystok.
"Personal circumstances have arisen and I've had to cut my time in Poland short," the 25-year-old told BBC Scotland.
"I would have loved to stay over there and I had the opportunity to stay over there, but I decided I had to come home and be closer to my family."
Gordon made 12 appearances in his 18 months for title-chasing Jaga before 14 last season for Pogonisci as they were relegated from Poland's second tier.
However, he insists: "I am coming back a more refined person and a more polished player.
"When I went to Poland, it was so different - the culture, their attitude towards football.
"The way they play the game is so different to Scotland and I think you see that at the World Cup.
"Over there, I was a fish out of water. I was so behind, but fortunately they stuck with me, the manager showed great allegiance to me and, after three months, I understood how they wanted me to play.
"Trivial things like how you receive the ball, what power you should pass the ball in different situations, how you should cross the ball. Everything changed for me."
Gordon, whose mother's side of the family is Polish, was happy to sign for only 12 months in the country of his birth as it meant working under Canning again.
"It's worked perfectly for me because I know what I'm getting and they know what they're getting," he added.
"I see a lot of myself in him and the trust is always there.
"It was almost a no-brainer to come back and play for that man."