World Cup 2018: 'There is belief here that Panama could get a point against England'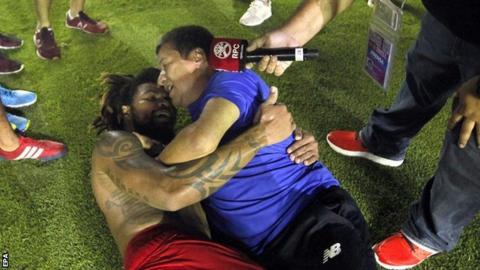 England v Panama
Date: Sunday, 24 June Time: 13:00 BST Venue: Nizhny Novgorod Stadium
Live radio and text coverage on BBC Radio 5 live and the BBC Sport website
Damion Potter was appointed British Ambassador to Panama in August 2017 and has witnessed first-hand how the Fifa World Cup - and Sunday's match against England - has gripped the nation.
Last October, two months after becoming British Ambassador to Panama, I was back in London accompanying a delegation of Panamanians to promote trade and investment.
As part of this, Panama's Trade Minister gave a keynote speech to the City of London. I won't forget his presentation in a hurry.
Only a couple of hours earlier Panama had qualified for their first-ever World Cup, with a last-minute goal against Costa Rica.
Unable to contain his enthusiasm, the Trade Minister opened with several replays of the goal which had already gone viral in Panama, showing it from every angle on the big screen while he jumped around the stage in front of a delighted audience who could see just how much this meant to him, and to his country.
He was not the only one celebrating.
Five thousand miles away, the party was still going strong in Panama City. As the match came to a close Panamanians spilled out onto the streets to the sound of reggaeton, fireworks and car horns as the entire country revelled in the team's success.
President Juan Carlos Varela declared the next day a national holiday, recognising in his midnight tweet what was already visibly apparent: no one was going to work the next day.
Living and working in Panama showed me first-hand the passion and excitement their first World Cup meant and I was already looking forward to being in Panama for their games, but this was given an extra twist last December when they were drawn in the same group as England.
Suddenly all eyes were on not just the World Cup but how the team would perform against players which are household names in Panama.
Many here watch the Premier League - nearly every time I get a taxi in Panama the conversation inevitably turns to Manchester City, Manchester United or Liverpool and their recent victories or setbacks. This means the chance to face England in the World Cup has really captured their imagination.
In the last few months I've been invited on TV half a dozen times to talk about football which has been a great opportunity to promote the UK to a wide audience across Panama.
This has seen me doing everything from wearing a top hat and tails at a tea party on a morning TV show, to offering my opinion on the best fish and chips!
Just a few weeks ago, Panama played Northern Ireland in what was their last home game before travelling to Russia.
Panama's President had invited me to watch the match with him from his box in the national stadium. The atmosphere was electric; everyone in the stand had their own Panamanian flag, and the live bands made sure everyone was dancing through most of the game.
Panamanians know how to party and they were determined to send their team off in style - the game started 10 minutes late as the firework display just kept going.
The game finished a 'diplomatic' 0-0, which also spared me from another Panamanian tradition in the national stadium - if Panama score, everyone throws their beers up in the air in celebration and it's impossible to avoid getting drenched.
Late last year I hosted an event to watch one of Panama's first international friendlies after qualifying, against Wales in Cardiff.
Panamanians are passionate people, and with the win against Costa Rica fresh in their minds, emotion was running high as they faced a European side. They took heart from a 1-1 draw.
I'm sure if they can manage the same result against England they will be celebrating as if they had won.
And they have kept the party going since the start of the World Cup.
For the game against Belgium on Monday the country came to a standstill. No national holiday this time, but with the game kicking off at 10 in the morning local time, many people stayed at home to see it live; and most of those who went to work still managed to find a screen to watch it.
The streets were empty for those 90 minutes. On the TV coverage of the game, and with the Panamanians watching from here, you could see the pride that everyone took in singing the national anthem before the game.
People told me it was a dream come true to see the team standing there in the stadium.
Many thought they were still dreaming by the end of the first half, as they kept a clean sheet against Belgium. Although they ultimately lost 3-0, Panamanians were happy with their side's performance against a team ranked third best in the world.
With hopes running high and seeing results such as Croatia beating Argentina 3-0, there is a belief here that Panama could come away with a point against England on Sunday, and possibly more against Tunisia the following week.
Diplomacy is a funny old game. I've spent the last year working to strengthen bilateral relations.
With football very much front of mind, President Varela found time to swap football shirts with the Foreign Secretary on his recent visit to the UK, where he also met the Prime Minister, cabinet ministers and the UK's private sector to speak about UK-Panama relations.
We're always looking for new and creative ways to engage Panamanians. The friendlies with Wales and Northern Ireland, and in particular the World Cup match against England, have been a gift.
On Sunday, I will host 120 senior Panamanian contacts for the match. I suspect I will be one of only a few wearing an England shirt. I will cheer loudly if the Three Lions win, although perhaps less so than if I were on more neutral territory.
One of the guests will be the Trade Minister who showed the City of London that incredible moment against Costa Rica.
He has promised me that, should Panama score, he will jump in the nearest swimming pool. I expect that would be just the start of the celebrations.
If Panama win, it will be an incredible place to be - unless you're the British Ambassador.