Antonio Conte, Maurizio Sarri and Roman Abramovich: What's going on at Chelsea?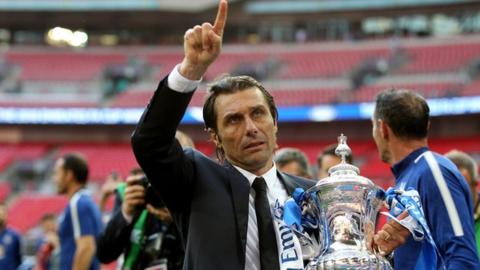 Chelsea have reached the halfway point of their close season with no new signings and no player sales.
And the reason for that is no-one, apart from owner Roman Abramovich, can really be certain about who their manager will be next season - and he's not telling.
So what does this mean for the club's star players? And is Abramovich still fully committed to the club?
The compensation issue
When current boss Antonio Conte lifted the FA Cup after Chelsea beat Manchester United on 19 May, it was expected to be his last meaningful moment as manager.
Despite adding a second trophy to the Premier League he won in 2017, his first season as Blues boss, even the Italian didn't seem convinced he would continue.
Although Conte said he was "committed" to Chelsea at Wembley, he also said he "could not change" his management style.
Given his confrontational approach had irritated many of his squad, it was interpreted as an invitation to Abramovich to get rid of him.
The problem is, if Chelsea sack the 48-year-old, whose contract expires in 2019, he is entitled to £9m compensation, with additional money to his backroom staff.
It has never been stated publicly, but the widespread view was that Abramovich thought Conte might take another job, which would reduce the payment or see it scrapped completely.
It has not happened.
In the meantime, the man who seems to be Chelsea's preferred replacement, Napoli's Maurizio Sarri, has had a compensation issue of his own.
The Italians appointed Carlo Ancelotti as their manager on 23 May - without sacking Sarri.
It means he is still bound by a contract that has two years to run, a contract which contained a £7m compensation clause if he left Napoli before 31 May, and an undefined sum thereafter.
It's all logical
It seems inconceivable Conte will still be in charge when Chelsea's non-World Cup players report for training at the beginning of next month.
The atmosphere in the dressing room was such that there is a serious risk of some senior players leaving if he remains.
Nevertheless, for now, Conte remains the boss. And former Chelsea player and Motherwell chief executive Pat Nevin understands why.
The Scot said: "Even if there was a 95% chance I was going to get my preferred option, I still wouldn't get rid of the current manager.
"What happens if it falls down?
"Let's say it was a manager who is currently in southern Italy. You are expecting him to come but there is some legal complexity that stops it. You have just got rid of one of the best managers on the planet.
"Logic says you should not take an unnecessary risk. That is what Chelsea are doing."
Tightening the purse strings
Whoever is manager at Chelsea next season, they will be taking over a club in a period of uncertainly.
As a direct result of not getting his investor's visa renewed, Abramovich halted a £1bn Stamford Bridge redevelopment plan.
Chelsea sources are adamant this will have no impact on funding for the football side.
However, over recent years, Chelsea have reigned in their net spending.
Since 2014, the Blues have spent £565m on new players. They have recouped £446m, reducing their overall outlay to £119m, which is less than five other Premiership clubs, including Everton and Crystal Palace.
'Is the sky falling?'
Chelsea's last four seasons have been strange. They have won the title twice. On both occasions, they have failed to finish in the top four the following year.
In the context of their recent history last season - when they finished fifth, were knocked out in the last 16 of the Champions League, but won the FA Cup - was a failure.
Prior to Abramovich's takeover in 2003, they had finished higher than fifth only seven times in their entire history. They had won the FA Cup on only three occasions - they now have eight.
"Is the sky falling? Let's see," says Nevin.
"Turn the corner and there will probably be a new manager, with a new group of players, who they will get the best out of. They have done so time and time again over the past 10 years."