World Cup: England boss Gareth Southgate says media must choose whether to help
Last updated on .From the section World Cup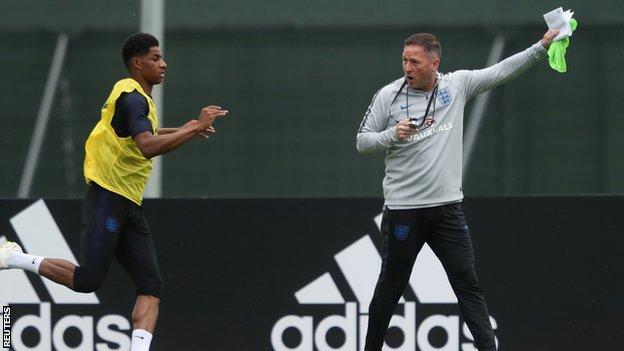 The English media have to decide if they want to "help the team or not", says manager Gareth Southgate, after a picture of England's training notes was published online and in newspapers.
A piece of paper held by assistant manager Steve Holland seemed to suggest England's line-up for Sunday's World Cup Group G game against Panama.
Holland has apologised to the squad.
"It's not going to help us because all the rest of the world has now seen that team," said defender Kyle Walker.
Southgate said the teamsheet was "just a squad list", and "it doesn't bother me in the slightest".
But he added: "Obviously any time, if we were to give the opposition the opportunity of having our team it's a disadvantage to us.
"So of course our media has to decide if they want to help the team or not."
Holland's teamsheet indicated striker Marcus Rashford could be in line to start alongside captain Harry Kane.
Raheem Sterling may be dropped to the bench while Ruben Loftus-Cheek could replace the injured Dele Alli.
England play Panama in Nizhny Novgorod on Sunday, with the match live on BBC One from 12:10 BST.
Right or wrong to report it? BBC pundits have their say
Former England and Tottenham midfielder Jermaine Jenas: "Their [the media's] job is to report the news, as simple as that. I do to an extent get where they [the England camp] are trying to come from but I do think it is slightly naive not to think that in today's social media world things like that are not going to get out anyway. Whether it is the local press that is there, our own British press or international press - someone is going to get it out."
Former England and Liverpool midfielder Danny Murphy: "Some of the press guys want the best of both. They want to be playing darts and bowling with the lads and getting on and having banter with them but as soon as there is problem they will jump on you and hammer you.
"Make no mistake, a lot of that going and mixing with the press is fake, you do it because you have to do it as players. You know they [the media] will come for you as soon as they have a bad game. Thankfully it was not a big deal because it was just 23 names on a piece of paper."
Southgate delight at England form
Manager Gareth Southgate believes parts of England's win against Tunisia were a match for the best football seen at the World Cup so far.
But he acknowledged there was still room for improvement as they prepare to face Panama.
He said: "The obvious thing to improve on is converting the chances we created. The more important thing is to try to keep the consistency of performance that we are showing.
"I think every team in the tournament will want to improve but we hit a level of performance that was comparable to anything else I have seen."