England v Panama: Six things to look out for in second Group G match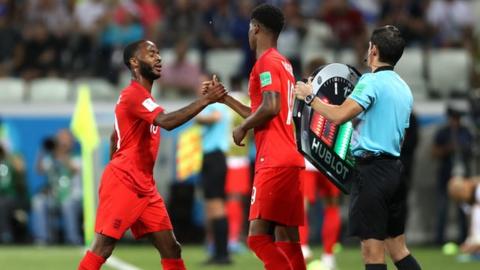 England continue their World Cup adventure against Panama with manager Gareth Southgate looking to build on their first opening-game win at a major tournament since 2006.
Victory for England in Sunday's 13:00 BST match in Nizhny Novgorod will put them into the last 16.
So what are the key factors to consider against the Central American underdogs?
Sterling feeling England heat?
Raheem Sterling's projected absence from England's team courtesy of assistant manager Steve Holland's now infamous team-sheet has not come to pass.
He gets another chance against Panama - but Marcus Rashford is ready to turn up the pressure if Sterling continues to misfire for England.
No-one doubts Sterling's ability or attitude, confirmed with 18 league goals and 11 assists in Manchester City's title-winning campaign. He has matured and developed.
Sterling's problem, one Rashford may eventually be able to exploit, is his lack of impact for England. The Manchester City man has the pace and movement to cause chaos but 21 internationals without a goal is a damning statistic.
Southgate has huge faith in Sterling, the manager greeting him with a warm embrace after his disappointing night against Tunisia, and firmly believes he will deliver for England.
Sterling must, however, start delivering soon or Southgate will be left with an interesting selection choice.
England's show of strength
Southgate will need more than 11 players to progress in this World Cup and the win over Tunisia provided promising indicators about the strength of his squad.
As England struggled to break down the increasingly entrenched Tunisians, he made key changes to introduce Rashford and Ruben Loftus-Cheek.
And both did enough to mark themselves down as potential starters as England hopefully drill further down into this World Cup.
Rashford's pace and running instantly troubled Tunisia but Loftus-Cheek was, if anything, even more impressive.
Tall and powerful, he is an elegant presence on the ball and showed great self-confidence in possession plus a willingness to try the unorthodox that enabled England to gather late momentum building to Harry Kane's winner.
Southgate, who also has the experienced Eric Dier to augment his midfield and Jamie Vardy's pace in attack, wants his players to take responsibility and play with freedom.
Rashford and Loftus-Cheek did exactly that.
Southgate happy to play game of patience
Southgate showed commendable foresight when he warned on arrival in Repino that England's squad must have the resilience to win games in "the 93rd or 94th minute" if required.
And he was suitably impressed when England did exactly that to secure three points against Tunisia with Kane's injury-time header.
Tunisia, once they had the lifeline of an equaliser, dug in and tested England's patience to the limit - and Panama will provide more of the same.
Panama proved for 45 minutes against Belgium that they are organised and have the ability to frustrate.
This will be their initial aim against England and Southgate will no doubt have prepared his players for this eventuality.
To their credit, England did not fall into the trap Tunisia had set for them and refused to resort to long balls, preferring instead a willingness to allow John Stones and Harry Maguire to bring the ball out from the back as well as trying to deliver service from wide positions.
More of the same will be needed in Nizhny Novgorod.
Panama's power threat
Panama's threat is a very obvious one - and one that will revive painful memories for England.
Southgate's side must be wary of conceding throw-ins in dangerous positions as this will be bring the danger of Adolfo Machado into play.
He has a trademark looping long throw and England need only to look back to Euro 2016 to know the pain this can inflict.
Iceland's Aron Gunnarsson caused havoc for England in Nice using this ploy, leading to Ragnar Sigurdsson's goal.
Panama lack serious quality but they are experienced, organised and physical.
They may adopt a more positive approach as this is now a game they need to win - but the smart money is on coach Hernan Dario Gomez adopting an initial 'safety first' approach.
Just watch the long throws.
Nizhny heat no problem
England have been training in extremely mild conditions at their Zelenogorsk base with temperatures around 15 and 16C.
As with their first game in Volgograd, they now travel to searing heat in Nizhny Novgorod, where the temperature will soar into the 30s.
Southgate has been well aware of the taxing conditions but they acclimatised in Volgograd - although this game kicks off at 3pm local time, six hours hours earlier than against Tunisia.
Defender John Stones has no worries: "It was the flies more than anything else in Volgograd. That was something else. The heat didn't bother me and didn't hear any of the boys saying anything about it.
"The other night was a good test for us heat-wise."
Watch those celebrations Mr Southgate
Gareth Southgate was captured on camera leaping high into the air when Harry Kane scored England's winner against Tunisia.
He will have to be more restrained, on the outside at least, should England score against Panama, having to protect that dislocated shoulder.
Surely he will be able to follow doctors' orders if it means England secure a second Group G World Cup win.