Colin Doyle: Republic of Ireland goalkeeper leaves Bradford City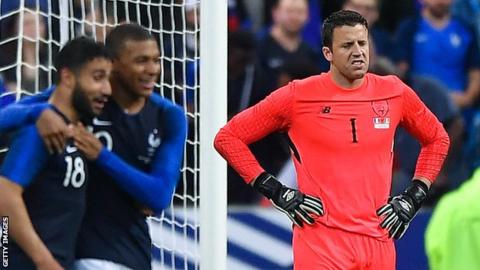 Republic of Ireland goalkeeper Colin Doyle has left Bradford after failing to agree terms on a new contract.
The League One club said they had offered Doyle, 33, a new two-year deal on the same terms as his previous contract, which expired this summer.
Doyle - who City signed for £1 from Blackpool two seasons ago - has played four times for Ireland
"I have just found out from the club that they have decided to go a different route," he said on Twitter.
" I loved playing in front of you every week."
Doyle, who made 88 appearances for Bradford, ended the season by playing in both of his country's friendlies against France and the United States.
The Cork-born shot-stopper found out negotiations had come to an end while on holiday with his family in the Dominican Republic.
Head of recruitment Colin Abbott told the club website: "In situations like this, we make an offer to the player which we believe to be realistic. At that point, a player's agent will come back with their offer.
"When an agent does comes back with a counter offer, if the club considers it unrealistic we all try and find a compromise. In some instances we can end up being too far apart and we just can't close the gap."
Bradford appointed their under-18s boss Michael Collins as their new manager earlier this week to replace Simon Grayson, who left the club after his short-term deal at Valley Parade ended at the end of last season.