World Cup: England's Raheem Sterling says criticism of lifestyle is no concern
Last updated on .From the section World Cup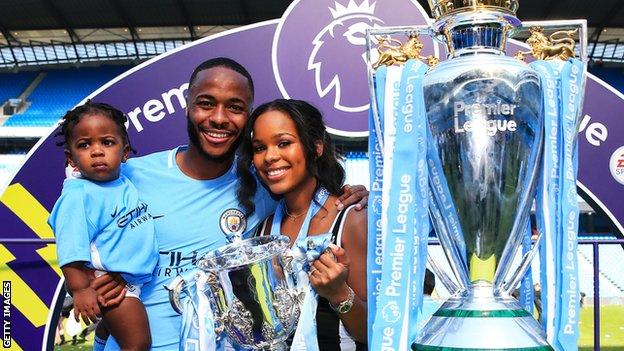 2018 Fifa World Cup on the BBC
Host:
Russia
Dates:
14 June - 15 July
Live:
Coverage across BBC TV, BBC Radio and BBC Sport website with further coverage on Red Button, Connected TVs and mobile app.
England winger Raheem Sterling says he no longer worries about the media "picking on him" because of a perceived love of "bling".
Sterling, 23, has frequently found himself at the centre of attention throughout his career, most recently for a tattoo of a rifle on his leg.
That followed criticism for proposing to his girlfriend, purchasing clothes at high-street chain Primark, and even for buying his mother a house.
"Fifteen years ago, we were cleaning toilets and getting breakfast out of a vending machine," says the Manchester City player of growing up in London with his mother and sister.
Writing in the Players' Tribune, Sterling added: "There's a perception in certain parts of the media that I love 'bling'.
"A few years ago, I would let it get to me. But now, as long as my mum and my sister and my kids don't have any stress, I'm good."
Sterling is playing in his second World Cup in Russia and featured in England's opening 2-1 win over Group G rivals Tunisia on Monday.
However, he may be dropped to the bench for Sunday's game against Panama in Nizhny Novgorod (13:00 BST kick-off) - a decision possibly hinted at when England assistant manager Steve Holland was pictured holding training notes at the squad's base in Repino on Thursday.
Double deckers & cleaning toilets
Following his father's murder when he was two, Sterling's mother left their home in Jamaica to study in England and left the children with their grandmother in Kingston.
Sterling and his sister eventually joined their mother in London when he was five. And it was his older sister who facilitated his football career, accompanying him to training with QPR each day while their mother was at work.
They would head towards the club's Heathrow training ground straight after school, and get home some eight hours later following several lengthy bus trips.
Sterling moved from QPR to Liverpool in 2010 and went on to score 18 goals in 95 appearances for the Reds, before joining City in 2015.
He made his senior England debut in in November 2012 but had to wait three years for his first international goal and has now scored twice in 39 caps, his last goal coming in 2015.
As a youngster, Sterling and his sister went to work with their mum, waking up at five in the morning and helping her clean hotel toilets.
"I'd be arguing with my sister, like, 'No! No! You got the toilets this time. I got the bed sheets'," he says.
"The only good part about it was that my mum would let us pick anything we wanted from the vending machine when we finished.
"She came to this country with nothing and put herself through school cleaning bathrooms and changing sheets, and now she's the director of a nursing home. And her son plays for England."
The naughty boy living his dream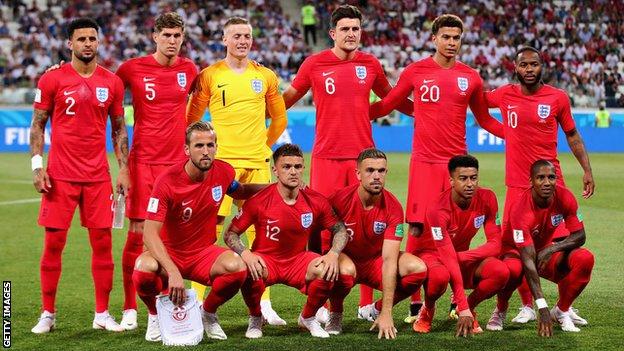 Sterling spent much of his childhood living in Wembley, growing up "in the shadow of his dream", and watched the new stadium going up from his back garden.
He was called up for England at 17 and now he is playing at his second World Cup. But his first Wembley appearance - against Denmark on 5 March, 2014 - remains perhaps the most special.
"The most surreal part was sitting in the bus on the way to the stadium, just looking out the window as we're driving down Harrow Road," he says.
"I was thinking to myself that's the house where my friend used to live, that's the parking lot where we used to roller skate, that's the corner where we used to try to talk to girls, that's the green where I used to dream that all of this was going to happen."
He adds: "If you grew up the same way I grew up, don't listen to what certain tabloids want to tell you. They just want to steal your joy. They just want to pull you down.
"England is still a place where a naughty boy who comes from nothing can live his dream."