World Cup 2018: Sweden fan house-sits striker Marcus Berg's apartment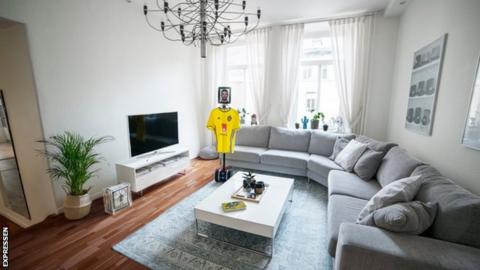 Your typical international footballer's home is probably behind giant cast-iron gates, protected with intruder alarms, CCTV cameras and away from the prying eyes of the media.
But Sweden striker Marcus Berg decided to open the doors of his 950-sq ft apartment to a competition winner.
The prize was to house-sit during the opening stages of the World Cup, and 28-year-old Jesper Bergkvist, from Umea in eastern Sweden, was the lucky victor.
He entered after he saw the competition advertised on Facebook.
"A friend tagged me and I thought it would be a funny opportunity and something I really wanted to do," he told Swedish news outlet Expressen.
"I filled an application presenting myself and why I wanted to house-sit, and the rest is history."
Berg also provided travel to Gothenburg and picked up the bill at several of his favourite restaurants in the city.
It wasn't all fun and games for Jesper and his 10 mates, who came to chill out on the striker's massive sofa during Sweden's 1-0 victory over South Korea on Monday.
Berg left a note on the fridge with a list of tasks for the house-sitter:
Take care of the flowers
Explore the city
Cheer for Sweden during the game
"We've ticked them all so mission accomplished! Marcus will be very pleased!"
Jesper said: "The whole thing is pretty cool, living here is magical and it's hard to put words."
But what does he think of Sweden and Berg's performance so far in Russia?
"Not bad but not good! Winning was important. But it could have been a much bigger victory with such clear chances and Marcus should have scored goals."
All right Jesper! You are living in his house, rent free... just say 'he's been brilliant' and keep your opinions to yourself!