Brian Lenihan: Former footballer reveals mental health battle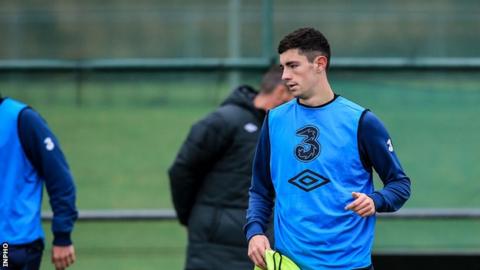 Former Hull City defender Brian Lenihan says that his struggles with mental illness forced him to retire from football at the age of 23.
The Cork native retired from football in April after his career was hampered by a series of recurring knee injuries.
He has now revealed he was suffering from mental health problems and tried to take his own life last December.
"It was a really dark period in my life from say July until December," he told the Hard Knocks Sports podcast.
"I was struggling a lot, with football and with lots of other things, mainly my mental health. The reason why I did retire was due to illness, not injury.
"On 15 December, I attempted suicide. I was brought to hospital and transferred to the Priory Hospital in Altrincham. I spent three months there and had 12 sessions of electroconvulsive therapy."
The former Republic of Ireland Under-21 international said he had decided to reveal the true reason behind his retirement from football to help other people who might be suffering from similar issues.
"It's something that not a lot of people know, my mum, my dad, my close friends, but nobody else really knew," he added.
"I suppose if I can help just one person and make sure they didn't make the same mistake that I did, because it wasn't as if I didn't have a close knit family or a good support network. I really did."
Lenihan, who turned 24 this month, now believes that playing football at such a high level contributed to his health problems as he attempted to recover from his knee injury.
"It was the pressure and the stress of football. Not reaching my potential, not achieving enough. Not getting a reward for amount of hard work I was putting in," he said.
"It's like anything in life, you put hard work into something with the hope and the expectation of getting something in return, and for the amount of work and effort I put in, I didn't really get anything in return. That's understandable, these things happen.
"I'm ashamed of what I did, but if I was in the same position, I think the same thing would have happened, and I would have ended at this point anyway, and I'm happy now, I'm really, really happy in Manchester, away from football, and just living a happy life, and I think that's the most important thing."