World Cup 2018: England manager Gareth Southgate dislocates shoulder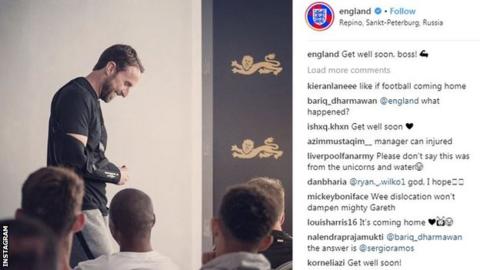 England manager Gareth Southgate dislocated his right shoulder while running on Wednesday.
The players had a day off from training and Southgate suffered the injury near the squad's World Cup base in Repino.
"The doc has made it clear punching the air is not an option," said Southgate, who jumped in the air celebrating the injury-time winner in Monday's 2-1 opening victory over Tunisia.
"I might not be celebrating any goals as athletically in future," he added.
Southgate, who had to wear a protective sling, was treated at a nearby hospital with the assistance of team doctor Rob Chakraverty.
England face Panama in their second Group G game of Russia 2018 at 13:00 BST on Sunday in Nizhny Novgorod.
"It is better this is me than one of the players," Southgate added.
"We have got such a great support team and they were there very quickly. I had brilliant help from them, and I am just sorry I managed to ruin their day off."