World Cup 2018: Denmark 0-0 France - how you rated the players
France and Denmark were greeted by boos at the full-time whistle as they played out the first 0-0 of the 2018 World Cup.
Your stand-out performer at the Luzhniki Stadium with a rating of 5.15 was Denmark goalkeeper Kasper Schmeichel, who produced three saves to keep his second clean sheet of the tournament - surpassing the one (in five) achieved by his father, Peter.
Perhaps unsurprisingly, goalkeeper Steve Mandanda also finished highest for France.
At 33 years and 90 days, he became the oldest player to debut for his country at the World Cup.
Report: Denmark join France in the last-16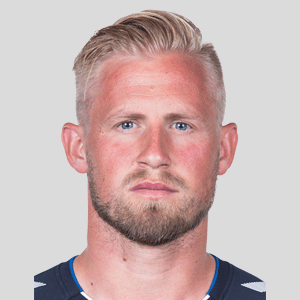 Player of the match
SchmeichelKasper Schmeichel
Denmark
Squad number

1

Player name

Schmeichel

Squad number

10

Player name

Eriksen

Squad number

6

Player name

Christensen

Squad number

14

Player name

Dalsgaard

Squad number

13

Player name

M Jorgensen

Squad number

4

Player name

Kjaer

Squad number

11

Player name

Braithwaite

Squad number

8

Player name

Delaney

Squad number

21

Player name

Cornelius

Squad number

17

Player name

Stryger Larsen

Squad number

23

Player name

Sisto

Squad number

15

Player name

Fischer

Squad number

12

Player name

Dolberg

Squad number

18

Player name

Lerager
France
Squad number

16

Player name

Mandanda

Squad number

13

Player name

Kanté

Squad number

9

Player name

Giroud

Squad number

10

Player name

Mbappé

Squad number

7

Player name

Griezmann

Squad number

4

Player name

Varane

Squad number

11

Player name

Dembélé

Squad number

18

Player name

Fekir

Squad number

22

Player name

Mendy

Squad number

3

Player name

Kimpembe

Squad number

15

Player name

N'Zonzi

Squad number

8

Player name

Lemar

Squad number

21

Player name

Hernández

Squad number

19

Player name

Sidibe