World Cup 2018: Seven things we've loved from the first week
What a first week we've had at the World Cup in Russia.
Shock results, absorbing drama, late winners, and of course, Cristiano Ronaldo bossing it.
There has been an abundance of brilliant entertainment on the field, but here are seven things we've loved away from the action...
1. Hair
Reports suggest Moscow's beer supply is running low, but who is keeping an eye on Europe's hair spray levels?
Barbers all over will no doubt be bracing themselves for the impending influx of young lads, each of them producing a screen grab of, [insert well-groomed footballer's name here].
There are some incredibly imaginative barnets in the World Cup squads, but the majority of Iran's team have opted for the slick side-parting look:
Neymar's hair became an instant meme:
And even Manchester United legend Eric Cantona joined in the trolling of the Brazilian's new 'do'...
2. VAR
Ahh grown adults wearing full kit when they are nowhere near a football field.
(We think there is a name for this... It will come to us).
But the VAR referees have had a pretty busy tournament so far.
Many of the decisions they have been involved in have been applauded, - not so much if you are English or Brazilian though.
Here were the BBC Sport pundits discussing the use of VAR (or lack-of) during England's opening game against Tunisia.
3. The "characters" among the World Cup managers
Senegal coach Aliou Cisse became a GIF maker's dream during their match against Poland on Monday.
His reaction to M'Baye Niang's controversial goal was a simple fist pump, but it was his look to the camera with little expression that made it.
Since then, his gesture has been applied to various situations.
He is not the only World Cup coach receiving the meme treatment.
Former Cambridge United boss Herve Renard, now in charge at Morocco, his crisp white shirt and his 'Jaime Lannister-esque' looks have also made an impact on social media.
4. Vicki Sparks, Alex Scott and the other women making their mark on the 2018 World Cup
The BBC's Vicki Sparks made history on Wednesday becoming the first female to commentate a men's World Cup match for British television.
She was joined by Martin Keown for Portugal's 1-0 win over Morocco on Wednesday, which knocked the African side out of the tournament.
Former England players Alex Scott and Eni Aluko have also made history as the first female pundits at the men's World Cup on British TV.
This puts it brilliantly:
5. Fans tidying stadiums
Japan's fans set the example. Colombia's barmy army followed, and the supporters of Senegal and Uruguay joined in the latest craze.
No it's not sticker albums - it's tidying up at the final whistle.
The Japanese practice seems to be spreading to the other nations and all we can say is, good on them.
There's nothing better than a well-mannered football fan armed with a rubbish bag.
6. England players' off-the-field antics
It's fair to say, in previous England squads, the term "antics" used to have negative connotations.
But this year, the most scandalous thing any of today's crop of players have done is go through a door that said "no entry"...*
*This controversial moment happened on Dele Alli's Instagram live - What. A. Rebel.
In their free time, Southgate's squad have been sightseeing, playing Uno, shooting some hoops on the basketball court and mucking about on inflatable unicorns in the team's pool in Repino.
The most refreshing thing to many is that they are being allowed, even encouraged, to share their "shenanigans" on their social media accounts.
Past managers have been much more strict with the players and their downtime.
Will a more relaxed approach create a better performance? We shall have to wait and see...
7. Fan viewing parties
Brighton Beach, a Roman amphitheatre and city squares - just some of the locations fans around the world have been watching their national sides in action.
Big screens have popped up everywhere and the colourful carnival that is the World Cup has been bringing communities together.
Here are some of the best pictures from the fan viewing parties over the last week.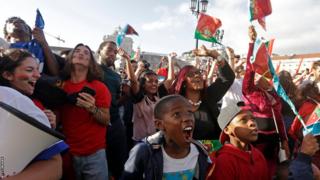 Lisbon, Portugal