World Cup 2018: Diambars' graduates set for bow with Senegal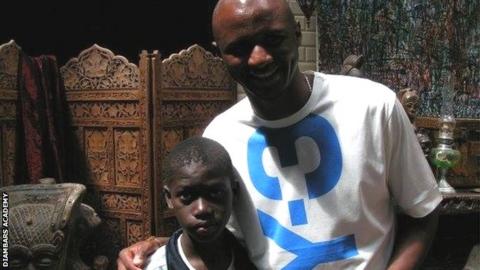 Senegal's squad at Russia 2018 will feature the first graduates of the famous Diambars football academy to make it to the World Cup.
Three players who started their careers at the academy are in the Teranga Lions' squad: Idrissa Gana Gueye of Everton, Papa 'Badou' Ndiaye of Stoke City and Kara Mbodji of Anderlecht.
They should have been joined by Saliou Ciss of Angers, but injury forced him out at the last minute.
Diambars opened in 2003, having been founded by former France captain Patrick Vieira and a number of other players.
Vieira, who was born in Senegal, began the academy to promote education among young people in the country.
The Diambars academy is situated in the town of Saly, some 70 kilometres outside the Senegalese capital Dakar.
Gueye, Ndiaye, Mbodji and Ciss were among the first to enrol and go on to land contracts with European clubs.
They all received call-ups to Senegal's squad for their first World Cup since 2002.
"That is an old dream I had since I was a very young player in Diambars academy," said Gueye - who was at the academy between 2003 and 2008.
"I am very proud to be a former player of Diambars, being able to represent it and Senegal at the World Cup."
The group recently returned to the academy as stars of the national team to begin preparations for the World Cup.
"It's an honour and it shows that Diambars has done a great job," Ndiaye, the youngest of the group, told BBC Sport.
"They can help kids, who have dreams, to achieve their dreams - so I think Diambars is a great academy and I hope that boys over there will even do better than us."
Ciss, who was replaced by Adama Mbengue just days before Senegal begin their World Cup campaign against Poland, hopes their achievements will help motivate the current generation of Diambars students.
"It's proof that Diambars has always worked and it's going to comfort young people who are there to work and want to be at this level," said Ciss.
Their former colleague, Makhtar Mbow, joined the academy at the same time as the others - but injury ended his playing career early.
He concentrated on education instead, and after earning a masters degree in economics he returned to Diambars as Director of Operations.
"For us it's a big honour to have four players going to the World Cup," he explained.
"It's a motivation for the young boys to work hard and go to the World Cup too.
"I remember first, Idrissa Gana Gueye when he was young, he was a long time crying when he didn't play in the team but he was a good boy, that's why he is at Everton right now.
"I am very happy to see him go to the World Cup.
"I remember Papa Ndiaye, he was younger than us but he was a hard worker, a very good boy. I remember, he was all the time the first on the pitch.
"I remember a lion, a very good worker, a boy who always did his best on the pitch."
Currently the academy has 100 boys in residence and the trio in Russia know their World Cup appearance is as much for their country as it is for Diambars football academy.