Checkatrade Trophy: Arsenal become latest Premier League side to enter under-21 team
Last updated on .From the section Football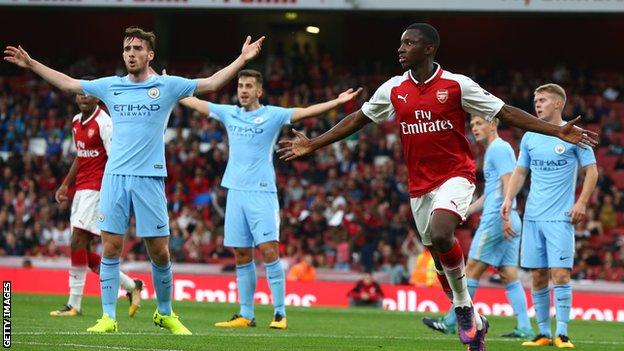 Arsenal are the latest Premier League club to enter an Under-21 side into the Checkatrade Trophy.
The Gunners are one of 16 Category One academies to enter the tournament for the 48 clubs in Leagues One and Two.
Also involved are Manchester City, Tottenham and Chelsea - who reached last season's semi-finals.
Liverpool and Manchester United are the two biggest sides yet to enter their youngsters into the competition in what will be a third season of the format.
The 64 teams will be split into pools of four clubs, with each group having an invited academy side in it.
Invited Under 21 sides in 2018-19 EFL Trophy

Arsenal

Newcastle United

Brighton & Hove Albion

Southampton

Chelsea

Stoke City

Everton

Swansea City

Fulham

Tottenham Hotspur

Leicester City

West Bromwich Albion

Manchester City

West Ham United

Middlesbrough

Wolves
The decision to allow academy sides into the tournament threw up some initial opposition, with concerns that third and fourth-tier sides might miss out on a chance to go to Wembley.
There has also been occasions when clubs have fielded first-team players in their Under-21 sides, such as Chelsea playing Michy Batshuayi against MK Dons a day after he featured as a substitute in the Champions League and Leicester City fielding a side worth £45m and with six over-age players against Scunthorpe United.
The EFL has tweaked the rules on who is eligible, with top-flight sides only able to field two players over the age of 21 and made more than 40 first-team appearances.
EFL clubs are now able to select players who are on loan at National League sides.
"Feedback from all levels of the game is indicating that the competition is starting to reap the benefits that we all envisaged at the outset of the revamp and I'm confident the format will continue to prosper with increasing support from clubs and their fans," said EFL chief executive Shaun Harvey.
"The Checkatrade Trophy will continue to provide young players, from invited teams and EFL clubs alike, with a unique opportunity to experience first-team football and I look forward to seeing the stars of 2018-19 emerge as the competition progresses."