Raffaele Riva: Ex-Watford chairman given indefinite English football ban
Last updated on .From the section Watford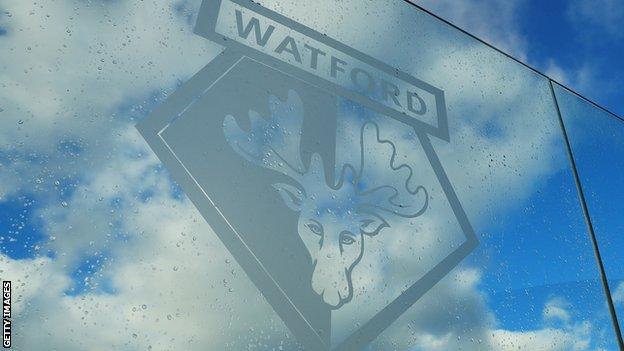 Ex-Watford chairman Raffaele Riva has been banned indefinitely from English football after admitting to breaking English Football League rules over a forged letter from May 2014.
The letter was submitted to the EFL in 2014 as part of a Change of Control application for Gino Pozzo's takeover.
In August Watford were fined a total of £4.3m including costs after two breaches of operational regulations.
Riva will not be able to get his ban reviewed until at least November 2026.
He has also been ordered to pay a £50,000 fine and £65,000 towards the costs of the EFL and the disciplinary commission hearing.
It was claimed by the Telegraph in 2016 that the letter contained guarantees of funds to ensure the takeover could take place.
However, the EFL were "satisfied" Pozzo - still the owner at Vicarage Road - had no knowledge of the forgery, with no other directors or employees aware of the situation.
Riva actions 'caused embarrassment'
Riva stepped down as Watford chairman in November 2016, a week after the EFL began an investigation into the now Premier League club.
An EFL statement says Riva admitted his conduct had "brought the EFL and Watford into disrepute" and caused them embarrassment, while also having a "serious impact on the integrity" of the competition.
He also said the letter was submitted with "his knowledge and consent", despite failing to ensure the information was accurate.