Wales women 'proved some doubters wrong'- Jayne Ludlow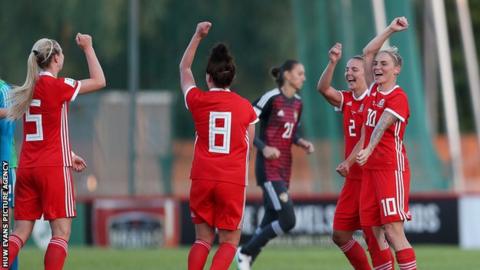 Jayne Ludlow has admitted her Wales team have even surprised themselves by moving to the brink of qualification for their first Women's World Cup.
Wales moved to top of Group 1 with a thumping 3-0 win over Russia.
They face England at home in their final fixture on 31 August knowing victory would guarantee a place in next summer's finals.
"If someone had said (that) to me when the draw was made, I would have fallen off my chair," Ludlow said.
"We're happy where we're at. Can we get better? Yes. And if we do that then we'll challenge anybody on our day."
Ludlow's squad do not boast a full complement of full-time players and the win over Russia has already ensured their best ever qualifying campaign after guaranteeing at least second place.
Wales are unbeaten and are yet to concede in seven games, meaning they boast the joint-best defensive record in European qualifiers alongside the Netherlands.
"Sometimes the smaller nation step out and do extremely well and prove themselves and that's what we've done," Ludlow added.
"Nobody expected us to be anywhere near this position come the end of seven games so for us we've proved some doubters wrong, some doubters within our own group because they've never been able to perform when the pressure was on.
"We're showing now that it's changing."
'Queens of 1-0'
Kayleigh Green broke the deadlock early in the second-half at Newport's Spytty Park before the Yeovil striker finished a fine team goal soon after.
"You could have shot me then and I would have died happy," Ludlow said of the effort, Tash Harding having later wrapped up the win with a third.
"You work on things on the training pitch and you hope they happen in the game and to actually see it is a fantastic feeling for everyone involved.
"And the result is more than we asked for. We've been the queens of the 1-0 so to get three, it's absolutely fantastic, it's what the girls have deserved."
Ludlow said "you would have to ask them" about what England and manager Phil Neville would have thought of the performance and encouraged players to simply "enjoy the moment for now".
But the former Arsenal midfielder admitted she would be joining in with discussions regarding the venue for the game which is yet to be confirmed.
Wales have to inform officials by 2 July where they will stage the game, with FAW chief executive Jonathan Ford having hinted at a smaller, intimate venue rather than the larger likes of Cardiff City Stadium and Liberty Stadium used earlier in the campaign.
Asked what she would prefer, Ludlow said: "Somewhere extremely loud - that would suit us."
She added: "A decision hasn't been made. I'm sure discussions will be had in the next few weeks over what's the best option for us, but right now I couldn't tell you what that is."