Fifa eClub World Cup: How Brondby conquered the globe... twice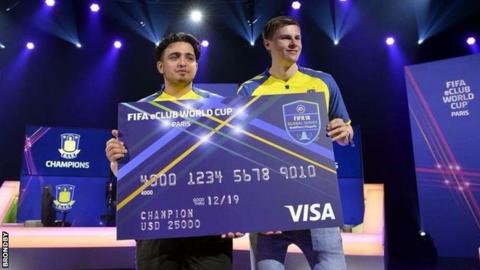 On the outskirts of Copenhagen lie a team who conquered the world just six months after being formed and retained that title a year later.
As eyes around the globe focus on football's showpiece event in Russia, Brondby's esports team already have a world title of their own in their virtual trophy cabinet.
The football club are 10-time Danish champions and played in a European Cup quarter-final, but their esport side won the Fifa eClub World Cup in 2017 and 2018.
But how have a club with only a modest profile outside their home country become the cream of the esports crop?
Hotel check-ins & concentrating on Fifa
Brondby were crowned champions of a tournament that included other club-affiliated sides such as Paris St-Germain and Schalke, as well as esport heavyweights Unilad and Team Envy, who they beat in the final.
The Danish club's players are not full-time - they study or work in between practice - but when it comes to tournaments they are fully prepared by club staff.
Jesper Larsen, Brondby's esports co-ordinator, will check in to hotels on the players' behalf, manage their schedules, ensure they get whatever food they want, and carry a 'game case' with a flat screen so they can practise in their rooms.
"The players only think about playing and performing," Larsen told BBC Sport. "We take care of everything so they should only concentrate on playing Fifa.
"We have done some good scouting, and we work a lot with our players on different levels. One had a mental coach to help him develop.
"At Brondby, 'unity' is one of our key words. It means we are a team - we stick together, we win together, we lose together."
Keeping it in Denmark
For their most recent World Cup success, they were represented by Frederik 'Fredberg' Fredberg on PlayStation 4, and Muhammed 'Fifaustun' Ustun on XBox One.
The club's policy is to only employ players from Denmark, which means scouring domestic esports competitions in the hunt for potential Fifa stars.
However, that criterion - combined with their relatively small budget - means Brondby success is forged on teamwork, rather than individual stars.
Their target for next year is to retain their crown - and it is not just us button-bashing amateurs who have to grapple with new additions and updates each year - but Brondby also want their players to enjoy individual success.
"We have a long way to go," Larsen said. "We don't have any players in the top 16 for the [individual] World Cup this year.
"If you want to be considered one of the best teams in the world, you have to have at least one or two of the best players there."
Overtaking the football club?
Brondby are one of a growing number of clubs, especially in Europe, to recognise operating an esports side means tapping into a potential new audience.
The likes of Paris St-Germain and Ajax remain more recognisable for their on-field achievements, but Brondby's failure to reach the Champions League group stage since 1998-99 means they cannot boast that global reputation.
That is not the case in the gaming world, as esports commentator Richard Buckley told BBC Sport: "They have one of the best Fifa players in the world and people began recognising Brondby because of that."
So does the Danish club's on-screen success mean they have now overtaken the football team in terms of reputation?
"I would like to bring the esports closer to the football players and the club as well," said Larsen.
"But for now the esports is still a small part of the football club. Hopefully we can manage to get equal in a few years, maybe five or 10.
"We started a year and a half ago and after six months won the first World Cup. There is an element of coming together at the right time and the right place."