World Cup 2018: All BBC Sport's quizzes in one place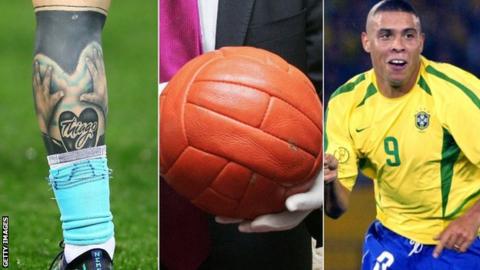 Think you can tell your Azteca from your Jo'bulani? Certain you know exactly where you'd find Fisht Stadium and Mordovia Arena?
OK, prove it. Test your knowledge of all things World Cup with BBC Sport's quizzes below. Good luck!
How many Golden Boot winners can you name?
See how many top scorers you can name from tournaments since 1966 in three minutes. Don't forget there were a couple of winners of the award in 1994.
Do you know your World Cup balls?
Twenty designs and 32 versions on from the first World Cup in 1930, Fifa has reverted to a modern classic for this summer's tournament - the Telstar 18 ball.
See if you can match the footballs to the year they were used.
How well do you know the squads?
Along with the Gracenote Sports analysis team, we've crunched the numbers on the 736 players competing for the 32 teams in Russia.
How will you get on? Take the quiz...
Can you name 2014 World Cup final XIs?
It was an extra-time winner by a substitute that won the World Cup for Germany against Argentina - but can you remember all 22 players who started the final of Brazil 2014?
Can you name all the losing World Cup finalists?
For every winner there has to be a loser. Eight teams have won the World Cup, while another four have reached at least one final without ever lifting the trophy.
You've got three minutes to name the nine countries who have lost in the 20 finals so far.
Test your knowledge of the England squad
England qualified back in October and share a group with Tunisia, Panama and Belgium - but how much do you know about the 23 players?
Name the players to score at least 10 World Cup goals
There van be few better moments for a footballer than scoring a goal for their country at a World Cup.
Some players will be happy to have experienced it just once but there are 13 players who have managed to hit double figures at football's most prestigious tournament.
You've got three minutes to name them...
Can you name the player from the tattoo?
From the personal to the controversial to the downright odd, plenty of footballers are heavily tattooed.
Can you match the artwork to the star? Remember - every player in it is set to play at this summer's World Cup in Russia.
Can you name the host cities?
Right, get ready to be severely tested. Name as many of the 2018 World Cup host cities as you can in three minutes.
And what about the host nations?
Several countries - including Russia this year - have only hosted one tournament, while a handful have been lucky enough to stage the showpiece twice.
Can you name all the countries to have hosted at least one World Cup?