Shaw Lane AFC: Yorkshire seventh-tier side resign from Evo-Stik League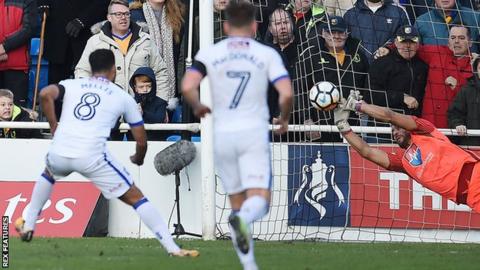 Non-league Yorkshire side Shaw Lane, who play at seventh-tier level in the English pyramid, have resigned from the Evo-Stik League.
Club owner Craig Wood says that "he has taken the club as far as he could".
Barnsley-based Shaw Lane, who reached this season's FA Cup first round, finished sixth in the league, a point adrift of the play-offs.
But Wood said: "It has cost me personally well over one million pounds to achieve what we have."
The club, who were only founded in 2012, have failed to find new investors to keep the first team going - but they will keep their junior section going.
"It is with great regret and sadness that Shaw Lane AFC have informed the relevant bodies of their withdrawal from all football matters with immediate effect," said a club statement.
"It has been well publicised that the club has been trying to attract inward investment in the last few weeks.
"This was not forthcoming within the timescales necessary. Exploratory talks had taken place with a Wakefield-based consortium, which could not provide the required guarantees necessary for the club to compete.
"The objective when Shaw Lane FC started was to give Barnsley a non-league football club, which could work together with Barnsley FC and the council to become an asset for the community and a development club for the borough's promising players.
"Unfortunately neither of these bodies shared his vision and Craig has decided to retire from the club and concentrate on developing his business and spending more time with his young family."