Kearney looking forward with 'no baggage' after St Mirren interview
Last updated on .From the section Irish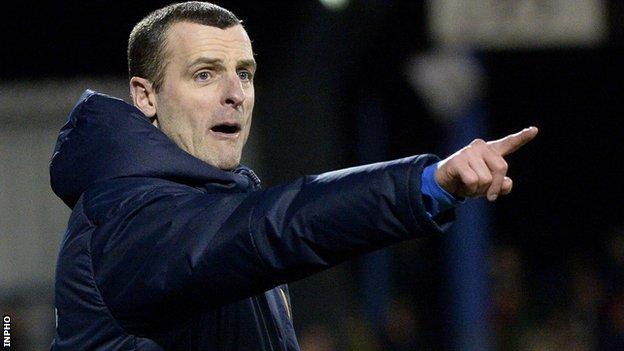 Oran Kearney says he can look forward with 'no baggage' after undergoing an interview for the St Mirren manager's job.
The Coleraine boss held talks with the Paisley club, but Alan Stubbs was appointed by the Buddies on Friday.
Kearney insisted he was not unhappy at the Bannsiders and that he went for the job because he didn't want to have a sense of 'what if?'.
The former Linfield midfielder led Coleraine to Irish Cup success in May.
In a statement about the job interview, Kearney said: "After some thought I chose to attend, not because I am unhappy at CPC (Cross and Passion College) or Coleraine FC, but because sometimes in life opportunities appear that could have 'life changing' consequences.
"I didn't want to look back in 20 years with regret and a huge 'what if' eating at me in relation to how things might have ended up if I didn't pursue.
"I enjoyed the preparation and the buzz of the interview itself.
"I am delighted with the feedback I received from the St Mirren board and thank them for the opportunity.
"I can look forward with no baggage in my mind in life and football."
Kearney was also keen to stress his thanks for the support he has received this week.
"This week proved a humbling experience," he added.
"In my family circle, my school community and my football family I am lucky to be surrounded by so many special people."