EFL clubs vote to end compulsory matchday programme publication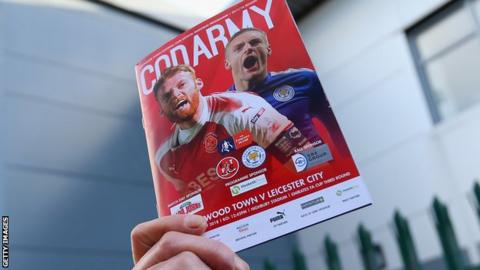 English Football League teams will no longer be obliged to print matchday programmes for every game after a vote at the league's annual general meeting.
In April the EFL said some clubs wanted the option not to print them because of declining sales and increased costs.
Programmes had been mandatory as a result of partnership and sponsorship agreements held by the EFL.
However, Championship, League One and League Two clubs can now make the decision on a match-by-match basis.
"There's so much news that people are accessing instantly through their phones now, I can see how it's a struggle at lower levels to keep the programmes fresh. It makes the economics of it tough," said Dr Alexander Jackson, collections officer at the National Football Museum.
"In future programmes will probably be accessed digitally so, in a sense, they won't go away, they'll mutate with technology."
The EFL will continue to produce programmes for all its major games, including the Carabao Cup final and all three play-off finals.
'Programmes are very powerful'
Dr Jackson has written a thesis named 'Football's Consumer Culture and Juvenile Fan Culture' which focused on the years 1880-1960, when programmes were in their formative years and were often just teamsheets.
A section of the museum, based in Manchester, is devoted to the rituals of going to a match and includes an array of programmes across the decades.
"In terms of what we get offered programmes are probably one of the most popular donations," he told BBC Sport.
"Programmes bring back memories of going to a specific game. A programme is a very powerful thing, as once you look at it you can start reeling off names of players from that era."
He said museums have started to prepare for the day that programmes - and other memorabilia - move away from hard copies and become computer-based.
"That's the challenge museums will have in all sorts of ways - how do you collect digital history? Museums are looking at how to address and approach this as it progresses.
"How people engage with the game is still the same, but it's going to be interesting how we best collect and reflect."
A challenge to programme editors
Collecting programmes remains a popular hobby, with a number of fairs held in England each year.
In 2014, a copy of the 1901 FA Cup final programme between Tottenham and Sheffield United was sold for £19,000 at auction.
Macclesfield Town fan Matthew Todd has around 30,000 of them in total, selling many both online and at a stall at the club.
"I put a challenge out there to programme editors," he said. "There are a lot of issues that are very bland, all written by one person and with no articles by the fans.
"Certain clubs follow the same template and they all look the same.
"Clubs have allowed programmes to slip off people's radars by letting standards slip a bit - if the product was good I'm confident it would sell better.
"I still think there's something in programmes. It might be one of those things where you don't miss it until it's gone."
Trying something different
But this is not as simple a decision as either keeping with the status quo or ditching programmes altogether.
League Two side Colchester United have come up with a novel idea to give every supporter a copy as part of their match ticket next season.
"I guess it was influenced by the EFL vote a little bit, but for us it's an opportunity to stand out from the crowd," said the club's media manager Matt Hudson.
"We were perhaps at a point where we needed to put ticket prices up anyway, but to soften the blow we have added the programme.
"Internal discussions say this gives the programme a chance to regain its importance as part of the matchday experience."
With programmes taking so long to put together, is there a worry that clubs who opt out of publishing them will make cuts to their media departments?
Ralph Shepherd, former editor of Notts County's programme, believes press teams would still have plenty of other jobs to justify their roles.
"I don't think a club's media team would need to shrink, necessarily," he said. "There is such a huge appetite for information, whether that be live tweeting, live social media videos as well as youth and ladies' games.
"Fans love the feel of a physical programme. I know I still keep editions and it will be a sad day if they were to go monthly or cease to exist."