Aston Villa: Former finance director Mark Ansell says club gambled on Premier League return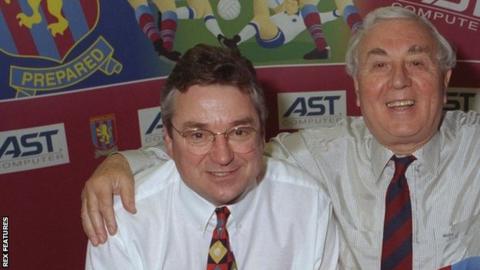 Aston Villa have "gone to the casino, rolled the dice and it hasn't worked" in their failed bid to return to the Premier League, according to the club's former finance director Mark Ansell.
Losing the Championship play-off final saw Villa miss out on around £160m.
And amid reports of owner Dr Tony Xia needing to sell the club, Villa are currently working with HM Revenue & Customs to resolve an unpaid tax bill.
"You have to question the management of the club," Ansell told BBC WM.
"The Revenue would have looked at the play-offs as a 'get out of jail free' card. When they didn't win that promotion, they would then have been questioning whether or not they could get their money.
"Villa have gone to the casino, they've rolled the dice and it hasn't worked."
Villa will spend a third successive season in the Championship following last month's Wembley defeat by Fulham, after which manager Steve Bruce warned that there might be "difficult times ahead".
Captain John Terry, who would have triggered a contract extension had Villa gone up, left the club last week.
Then, on Tuesday, Villa suspended chief executive Keith Wyness, who was appointed by Xia when he took over during the summer of 2016.
Wyness' suspension is in no way connected to the club's unpaid tax bill.
The club reported a loss of £14.5m for the 2016-17 season, their first in the Championship following relegation from the Premier League and first under Xia's ownership.
That was a significant reduction on the £80.7m loss in 2015-16, when Villa were relegated from the top flight for the first time since 1987.
'Far more questions than answers' - analysis
Football finance expert Kieran Maguire from Liverpool University
Villa bought players for £88m but a lot were on credit and a lot of those deals are yet to be finalised. They also probably had the highest wage bill in the Championship last season and meeting that on a monthly basis is a significant outgoing.
You have to pay your PAYE and VAT bills on a monthly basis. But the tax authorities don't normally jump up and down if you're just late on one payment. So you'd have to assume that tax bills have not been paid for two or three months. That's when HMRC start to get more nervous.
Tony Xia has put in about £4m a month from his own pocket since he took over. He can pay it from his independent wealth. Whether he can get the money out of China is another thing. That and whether he's reached the stage where he's fed up of subsidising it to the extent that he has done over the last two years.
They should get their financial parachute payment from the Premier League but there are currently far more questions than answers.