Loris Karius: Uefa plans video access to aid concussion diagnosis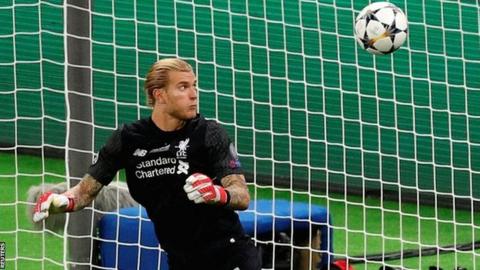 Medical staff will be able to review potential concussions on laptops, under new plans discussed by Uefa.
Officials and medics did not see a collision between Loris Karius and Real Madrid's Sergio Ramos in the Champions League final, which may have led to the Liverpool keeper's concussion.
But under new proposals medical staff on the sidelines or in the stands would be able to review incidents.
It would follow a similar Head Injury Assessment process in rugby union.
In 2016, the English Premiership became the first league in the world to allow access to tablets in order for staff to rewind potentially concerning incidents.
European football's governing body Uefa is reviewing its guidelines, which were updated in 2014 and state a match can be stopped for up to three minutes for a head injury assessment and that only a doctor can decide whether a player should continue or not.
Head injury experts have been critical of football's approach to head injuries after Karius was found to have suffered concussion during the final, which Liverpool lost 3-1 to Real Madrid.
During the game, the 24-year-old German goalkeeper made one of two costly mistakes minutes after the collision with Real defender Ramos.
A medical team who assessed Karius at Massachusetts General Hospital, which included leading NFL head injury expert Dr Ross Zafonte, concluded it was "possible" the injury "would affect performance".
Dr Willie Stewart, a leading British neurosurgeon who has been at the forefront of improving assessment of head injuries in football and rugby union, said medical teams told BBC Sport they were "handcuffed" by a lack of adequate help.
The Scot said: "Football doesn't allow an interchange for a player to be assessed to see if he has a brain injury; doesn't allow significant time for the medics to assess the player; doesn't have a video review of events to be able to say if there was a glancing blow on my goalkeeper's head which I didn't notice.
"It's unacceptable in 2018 that it should be this way."
Premier League rules were also updated in 2014 after Tottenham received criticism for allowing goalkeeper Hugo Lloris to continue playing after losing consciousness.
In 2015, the Football Association issued guidelines about how concussion should be dealt with.