Keith Wyness: Aston Villa chief executive suspended by Championship club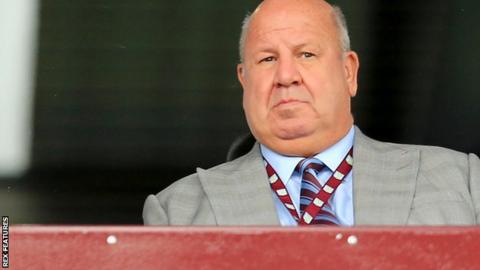 Championship side Aston Villa have suspended chief executive Keith Wyness.
The announcement came as it emerged Villa are working with HM Revenue & Customs to resolve an unpaid tax bill, although that is in no way connected to Wyness' suspension.
It is understood that the club will pay the outstanding amount within the next 48 hours.
Villa said that owner and chairman Dr Tony Xia will "assume the [chief executive] role until further notice".
Wyness joined Villa in June 2016 shortly after the Chinese took over at Villa Park.
Villa lost 1-0 to Fulham in the play-off final at Wembley on 26 May, meaning they will spend a third consecutive season in the second tier.
Analysis
Mark Regan, Aston Villa reporter for BBC WM 95.6
This news will come as a shock to Aston Villa fans, who are still coming to terms with the play-off final defeat. It will also do little to calm fears that the club has entered a deeply troubling financial situation after missing out on the windfall that would have come with promotion.
The club's owner Dr Tony Xia has previously stated that Villa face "severe" challenges under financial fair play rules.
In short, Villa need a stabilising influence and they need it quickly with the squad needing drastic surgery to prepare for a third season in the Championship. Tuesday's news will feel like salt into a wound that's had no time to heal.