Gary Hughes to leave Scottish FA post after Dave King suspension call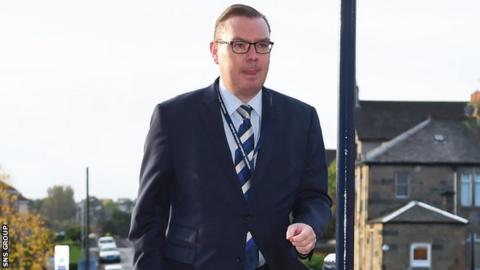 The Scottish FA has confirmed that independent non-executive director Gary Hughes will not seek re-election.
The governing body say Hughes "intimated his decision upon return from holiday and the board respects his decision" ahead of Wednesday's AGM.
Last month, Rangers chairman Dave King called for Hughes to be suspended.
King wanted an investigation into a newspaper article which suggested Hughes had previously made derogatory remarks about Rangers supporters.
The comments were said to have been made in a magazine article from 2006. The piece from The Publican referred to fans of the Ibrox club as "the great unwashed".
In a statement released by the SFA, Hughes, who joined the organisation in 2015, said: "It has been an honour and a privilege to bring my professional expertise to the game I love.
"I have been involved in business for 30 years but the commitment of my board colleagues - and indeed everyone involved in Scottish football - to improve the national sport in this country has made it an absolute pleasure.
"I will remain a passionate supporter of the Scottish FA's activities, but it is time to focus on other business interests at home and abroad."