Joey Barton: Fleetwood's new head coach reveals Sean Dyche influence
Last updated on .From the section Fleetwood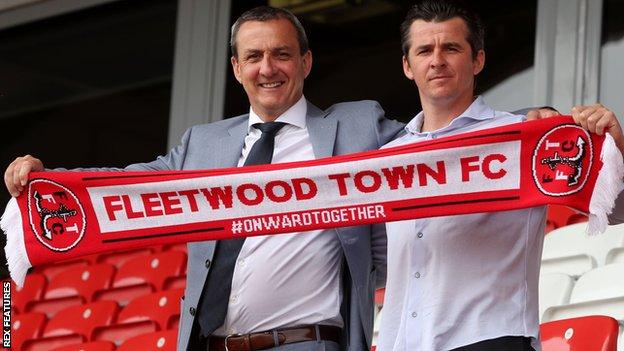 Joey Barton says he "sounded out" Burnley boss Sean Dyche prior to taking the Fleetwood Town manager's job - before he had spoken to his partner.
Barton said Dyche, whom he played under in two spells for Burnley, was the "manager of the year" as the Clarets finished seventh in the Premier League.
"He's somebody I know will pick up the phone at any hour and will give me advice," Barton, 35, told BBC Sport.
"It's great to have somebody at that level that you can lean on."
John Sheridan left his post as manager after Fleetwood finished the season 14th in League One.
'The death of Joey Barton the player'
Barton, who has signed a three-year deal, said he will no longer play as he wants to concentrate on "giving it his all" in his first managerial job.
His last playing appearance was in Burnley's 2-0 home defeat by Manchester United in April 2017.
He was released at the end of that season, after being banned for 18 months when he was found to have placed 1,260 bets on football matches over 10 years.
Barton, capped once by England, had the suspension reduced by almost five months on appeal, meaning it expired in 1 June.
"I have to put Joey Barton the player to bed," he said. "Some will argue that's a very good thing. The death of Joey Barton the player.
"I love playing. It's something I dreamt of doing from as long as I was consciously aware but, from the age of about 29, I've thought about coaching and giving something back to the game.
"Some people will have questioned this appointment. But I intend to pay the club back over the next three years and give my all.
"It's down to me show the faith that this club and the chairman Andy Pilley in particular have shown in me.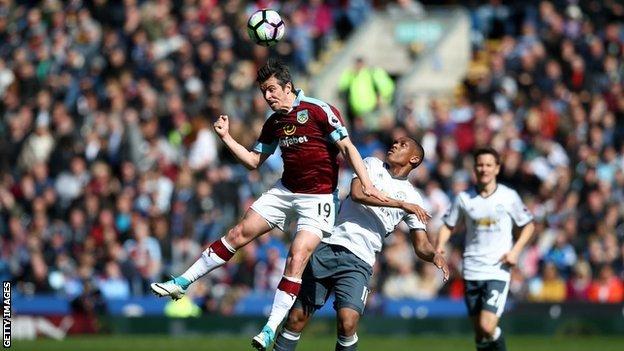 'At the time it didn't make sense'
Speaking about the importance of psychology in the modern game, Barton reflected on the time he spent a week at the Sporting Chance Clinic being treated for anger and behavioural problems.
"At the time it didn't make sense but when I look at it now it's given me the skillset I'll need in management.
"Ultimately you're in a role to help facilitate improvement and stimulate players to perform on the pitch. I think all the top coaches we see at the big clubs, yes they focus on the tactics and physical, but most of the top managers are psychologists."
'Say something on Twitter and it make news in Indonesia'
Barton has been a regular Talksport pundit over the past year, and admits the experience has altered his thinking on how to handle the media.
"Being poacher-turned-gamekeeper for the past year, I've got a deeper understanding of how everything is connected," he said.
"You realise it's a two-way street."
As well as retiring as a player, Barton also says he will be treading more carefully on social media platforms.
"To use it as I did as a player would not be the right thing going forward," he said.
"I never thought I would leave school and be followed by x million on Twitter.
"I probably didn't have the skills to handle fame then, if that's what you call it.
"Say something on Twitter and it make news in Indonesia. That's the reality of it now.
"But, as a 35-year-old ex-pro, I feel I have a lot more skills now and that's what comes of maturing as a man."