NI debut caps 'whirlwind' year for Hazard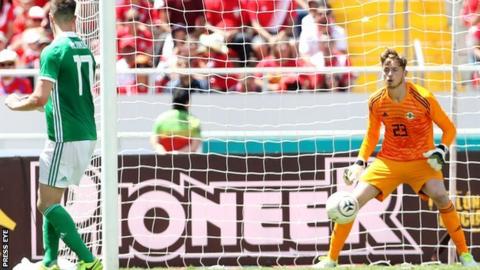 Conor Hazard believes making his Northern Ireland debut has capped a 'whirlwind' year.
The Celtic goalkeeper is determined to retain his place in Michael O'Neill's squad after his substitute appearance in Sunday's 3-0 defeat by Costa Rica.
Having played 12 games on loan to Falkirk last season, Hazard is also aiming to impress Parkhead manager Brendan Rodgers in pre-season training.
"I was delighted to make my debut and my family were buzzing," said Hazard.
The 22-year-old came on as a late second-half substitute for Trevor Carson.
"Playing against Costa Rica topped off what has been a whirlwind year for me, with my involvement with Celtic and playing 12 senior matches," he explained.
"I didn't know if I was going to be coming on or not, but I made sure I was mentally prepared before the game.
"It has been great being on the trip with the squad but to get on the pitch and experience the atmosphere of the crowd was amazing.
"I'm determined to keep my place in the squad for the autumn internationals and hopefully by getting on the pitch I've proved that I deserve to be selected again.
"I haven't made my club debut yet but I'm going to keep working hard and see what happens."
While he enjoyed making his debut, Hazard and his team-mates were disappointed with the 3-0 defeat to Costa Rica.
"The atmosphere in the dressing room was a bit deflated after the game," he added.
"None of us were used to the conditions and they were very tough to play in.
"But it was a great achievement for me to make my debut and it's something I could get use to."
Johan Venegas, Arsenal loanee Joel Campbell and Francisco Calvo scored the Costa Rica goals against Northern Ireland.
The defeat completed a two-game tour of Central America, the first of which was a scoreless draw against Panama.