New Scotland players staked a claim on summer tour, despite losses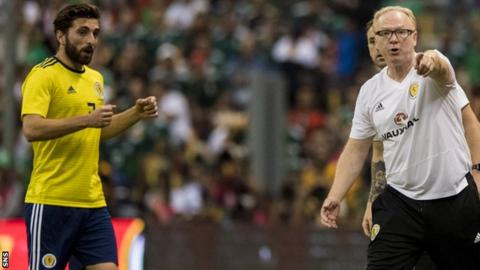 Considering the cards he was dealt, Alex McLeish played an astute hand in Peru and Mexico and departs having pretty much broken even.
Yes there were two defeats, no goals and precious few moments of individual brilliance to excite the few hundred travelling supporters.
But what those fans did get was wholehearted endeavour from a group of players deeply honoured to be given the opportunity to represent their country.
Against teams keen to give their own wildly enthusiastic supporters reason to party at these World Cup send-offs, Scotland showed a determination not to capitulate.
These players had heard all the negative comments about the tour, about the weakness of the squad, about the likely thumpings that were coming their way and resolved to prove the critics wrong.
They may not have done that entirely, but a wasted trip? A pointless exercise?
Try telling that to Scott McKenna, who rounded off the most incredible season by captaining his country in one of football's most famous venues; to Stephen O'Donnell, whose reward for an influential role in the Kilmarnock revival was two international caps; to any of the other eight new caps, who were given the opportunity to show the manager they could cut it at this level.
How many will play for Scotland again we cannot know for sure, but no-one let their country down, no-one gave such an abject performance that you could say with great certainty 'that's their first and last cap'.
Lewis Stevenson, at 30, will probably know the likelihood of him making future squads is remote. Not because he did anything wrong. Simply because of the surplus of talent Scotland has at left-back. Kieran Tierney, Andrew Robertson and Barry Douglas will all be back for the start of the Nations League in September.
Goalkeeper Jordan Archer, too, will be aware that he has much to do to convince Alex McLeish that he deserves another chance, particularly with Craig Gordon and Allan McGregor waiting in the wings and Scott Bain giving an excellent account of himself on his international debut against Mexico.
But beyond that, McLeish now knows a good deal more about each member of this squad and how they might fit in to his future plans.
Undoubtedly, several will feature in his squad for the next friendly game against Belgium on 7 September and the significantly more important fixture against Albania in the Nations League three days later. Others may have to bide their time before getting another crack on this stage.
A lot will depend too on how these players start next season - and where.
Dylan McGeouch, for instance, played well in Lima, perhaps less well in Mexico City, but had earned a place in the squad based on a terrific season at Hibernian.
He seems to be destined for England now. The right move and a continuing improvement will surely mean a bright international future, but sitting on a bench in England's Championship could have the opposite effect.
Ryan Christie faces a make-or-break season with Celtic. If he stays there, he'll have to play regularly to stay in McLeish's plans. The same could be said of Christie's club-mate Bain.
Aside from getting a closer view of new players, what McLeish has also been able to do - or perhaps forced to because of available personnel - is try out a couple of different formations.
The manager's preference appears to be to play with a three-man defence, but here, in both fixtures, he used a flat back four, with slight variations in the way the midfield lined up in each game.
It might be that he feels one of those shapes is more suitable against either Albania or Israel and now he has seen how they operate not just on a training ground but against good quality opposition.
So he will not consider this to have been a waste of time and energy. He inherited the fixtures, organised before Stewart Regan departed as chief executive, and made the best of them.
No doubt he was frustrated by the many call-offs and the unavailability of certain players, but he scarcely grumbled, choosing instead to focus on the benefits he could glean from this end-of-season tour.
Now he and his coaching team of Peter Grant and James McFadden will mull over exactly what they have learned, while the players put their feet up for a couple of weeks.