Mexico 1-0 Scotland: I think there's something wrong with the goalposts - Oli McBurnie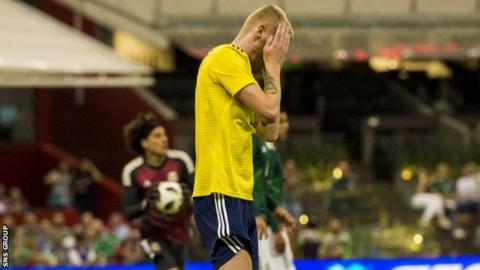 Oli McBurnie admitted he thought he had scored the biggest goal of his career at the Azteca Stadium.
The 21-year-old Scotland striker watched in agony as his second-half header came back off the post during Sunday's 1-0 loss to Mexico.
McBurnie is still waiting to open his international account having featured in four matches.
"Tonight would have been nice to get my first but that's the way it goes," he told BBC Scotland.
"I got a really nice connection on it. Johnny Russell put a great ball in and I thought it was in.
"I think there's something wrong with the goalposts. I think they're square or something and it's bounced back out.
"But as a striker when you get chances you've got to try to make the most of it. On another day it goes in and we nick a draw, which - we've put such a shift in - no-one could argue with."
McBurnie, who concedes his club career is in limbo with Swansea City currently managerless, hopes he has helped his Scotland cause for the future during the 11-day tour, which included a substitute appearance in 2-0 defeat in Peru.
"You've got Leigh Griffiths and a lot of strikers out there playing well for their clubs and it's better for the country the more options there are," he added.
"We want the gaffer to have a headache. We don't want it to be 'that name's on the teamsheet every game', we want it to be 'there's a certain amount of options that have all done well'. I want to give the gaffer food for thought.
"Obviously Leigh Griffiths is the number nine at the minute and that's fine. He's done unbelievably when he's played for Scotland and I'll always support him and always be cheering when he's scoring. But it's my job as a striker to go for that job as well."
And playing in an iconic arena like the Azteca Stadium has certainly whetted his appetite.
"It was an incredible experience," he said. "It's the sort of thing that when you're a kid, you dream about playing in those sort of games.
"It was real tough with the opposition and the conditions, something that not a lot of the boys are used to. But I enjoyed every minute of it.
"Playing for your country is what you want to do when you're a kid. Thankfully enough that's the fourth time I've been able to do it now and I just want more."