Women's Championship: Sunderland to appeal omission from restructured league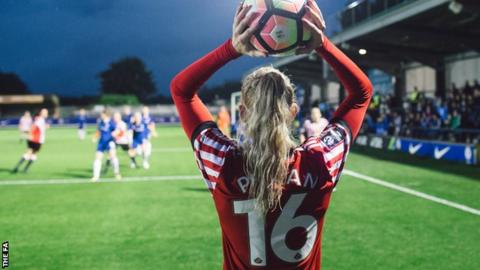 Sunderland will appeal the Football Association's decision not to award their ladies' side a licence in either of England's top two, revamped leagues.
The Lady Black Cats finished seventh in Women's Super League One last term, 14 points above bottom side Yeovil Town.
However, they were the only top-tier side not to receive a spot in the two-division system for 2018-19.
West Ham were moved up to WSL 1 from the third tier, while Manchester United were among five new clubs in tier two.
The news comes after a restructure of the women's leagues - which are run by the Football Association - which saw existing teams have to reapply for their places, before a second, open application phase.
Southampton, Crystal Palace and Derby County were among the other sides to bid to join the new second division, but were unsuccessful.
BBC Sport understands Sunderland, plus ousted-WSL 2 sides Watford and Oxford will all be offered spots in the third tier, the new FA Women's National League.
Chairman Stewart Donald told the club's official website: "The ladies team is an important part of our Sunderland family.
"When you look at their history, seven of the current England women's squad was produced by Sunderland, which is something to be very proud of.
"We want to continue the club's long-standing tradition of developing top-class women's footballers, as well as giving young girls the opportunity to aspire to play for Sunderland when they grow up."
You can now add WSL 1 notifications for line-ups, goals, kick-off, half-time and results in the BBC Sport app. Visit this page to find out how to sign-up.