Dagenham & Redbridge: National League club seeking £110,000 to ensure survival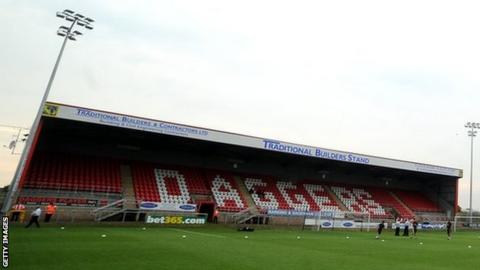 National League club Dagenham & Redbridge have launched an appeal to fans of all clubs as they seek more than £110,000 to ensure their survival.
The Daggers are desperately looking for investment after former director Glyn Hopkin resigned and ceased funding the club midway through the 2017-18 season.
The club has set up a donation page on its website.
"We need this for next year. It will give us a bit of breathing space," managing director Steve Thompson said.
A consortium led by Hopkin purchased 74% of the club in January 2017, but stopped the cash flow on 31 December, with Hopkin then resigning as director on 2 February.
The effect was felt on the pitch, with Dagenham forced to sell Sam Ling to Leyton Orient, Morgan Ferrier and Scott Doe to Boreham Wood and Corey Whitely to Ebbsfleet United.
They then lost manager John Still at the end of the season to Barnet.
'We are not going to under next week'
Dagenham played a match against Premier League side West Ham in March to help raise money to keep the club afloat but require a larger injection of funds.
Fans have raised £38,000 but they remain a long way short of their £150,000 target.
However, Thompson has reassured supporters the club will be able to present a budget at the National League's AGM later this month.
"It would still be tight even if we raised the £150,000. But we are not going to go under next week," he told BBC Sport.
"It's been a difficult season but the supporters are getting behind the club.
"West Ham have been very supportive and Dagenham girl Stacey Solomon, with her 1.5 million followers, has retweeted it.
"She remembers how much help we gave her on the X Factor and she's repaying the favour."