Gareth Bale's future 'up in the air' after Zidane departure - Toshack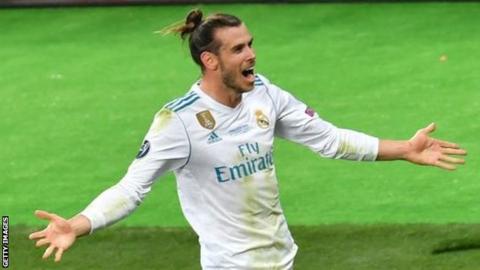 Ex-Wales and Real Madrid manager John Toshack is unsure whether Gareth Bale has a future at the Spanish club after boss Zinedine Zidane's departure.
Bale, 28, scored twice off the bench in Real's 3-1 win over Liverpool, sealing his side's 13th Champions League title.
Despite having a contract until 2022, he has been linked with moves to Bayern Munich and Manchester United.
"With the decision that we have heard from Zidane it throws everything up in the air," said Toshack.
Bale joined the Spanish giants for a then world record £85.3m in 2013, but has not been a regular starter this season.
"I had an injury five, six weeks into the season but I've been fit ever since," said Bale, who scored 21 goals in 39 appearances this campaign.
He had scored five goals in four La Liga games prior to the Champions League final and admitted his disappointment not to have started the game.
He said he would speak to his agent this summer about his future.
"It looks as though one or two clubs at home would be interested," said Toshack.
"The size of the fee would be a stumbling block, but I certainly would be very interested to see what Gareth's next move is, whether he stays or goes."
Language barrier
Asked if Bale not yet being fluent in Spanish has had any bearing on his favour at the club, Toshack said it would benefit the player.
"My first years in Portugal and Spain, although it took me time, I was able to master the language and people respected me a bit more for that," Toshack said.
"They put up with the little mistakes you make if they see you're having a go.
"It's in your own interest, you like to know what people are saying about you, not just the good things but the bad things as well."
Toshack said Bale's main problem was not the language barrier, but "injuries keeping him out for as long as they have".
"At that level it takes a lot out of you to get yourself back into a condition to challenge for a place in these top sides and Gareth missed a lot of games," he added.
"But the way things stand, to have played the years he has at Real Madrid and the trophies he has won there, he has to go down as one of the greatest of all times."
Good time to go
Toshack, 69, managed Real Madrid twice, leading them to the La Liga title in 1989.
He said the club can "take a lot out of you" even when you have been successful like Zidane.
"I know the disappointment they had in the league [Real finished third], they weren't consistent enough, in many ways the Champions League just kept them all going," Toshack added.
"You could see the body language in the days before wasn't as it should have been... Ronaldo was unhappy with the criticism he was taking.
"So maybe Zidane probably saw it all flaring up and thought this was a good time to get out, because there are some things that need sorting out at Madrid," said Toshack.
"You have to really be in there to know what it's like, it's easy to look from the outside. If Zidane had had enough when he has winning imagine what it would have been like if he was continually struggling.
"Whilst it came as a surprise, when you analyse it you can understand it."