Are Exeter City supporters the most powerful fans in England?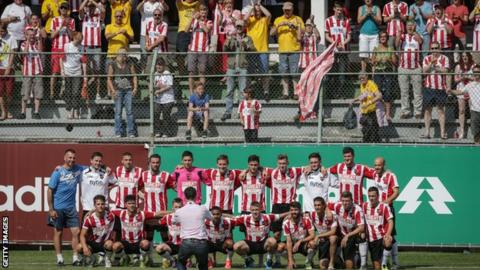 Exeter City have just changed managers for the first time in more than a decade.
But what saw Paul Tisdale leave the club after 12 years was not a run of bad results or a disagreement with the chairman - but Exeter's fans serving notice on his contract.
It led to the longest-serving manager in English football deciding not to take up his new terms and the two parties parting ways.
Less than 24 hours after Tisdale left and former defender Matt Taylor replaced him, BBC Sport examines how Exeter's fans were able to wield such power and what it might mean for the future.
Fans save Exeter from the brink of ruin
"If it was a Facebook relationship status it would say 'it's complicated'."
That's the view of Exeter City broadcaster Graham Kirk on the relationship between the Exeter City Supporters' Trust and the club.
Exeter City are owned by their fans through the trust, a group of more than 3,000 supporters who nominate four of the eight directors who run the club.
Criticising the trust model is not always the easiest thing to do in Exeter as without it there would be no Exeter City FC.
Back in 2003 the club was in a financial mess. They had been relegated from the Football League and were on the verge of going out of business - the former chairman would later be jailed over his role in the affair.
The trust took on the club and its £4.5m debt and the rest, as they say, is history.
A model that 'players and managers would be attracted by'
"It's a big talking point the trust model," said life-long supporter and trust member Kirk.
"I truly think that the termination of Paul's contract wasn't about Paul. I truly believe that the trust felt the contract was not sustainable.
"For a League Two club to have a manager on a two-year rolling contract, is that sustainable? I'm not sure that it is really, so I think something had to be done.
"Whether it was done the right way and how it was done, that's up for discussion."
Tisdale's demise began in October 2016 when the club were bottom of League Two after a series of injuries.
Enough supporters were minded to support a proposal to serve notice on his deal, and that month around 85 trust members voted on it at their annual meeting with the motion passing reasonably comfortably.
"What the trust does is provide governance around how we would like our club to be," said current trust chairman Nick Hawker.
"We want to be a club that is welcoming and has a family environment that people are pleased to come to.
"You kind of hope that players and managers would be attracted by that environment."
But that environment alone does not pay the bills - City needed a Professional Footballers' Association loan to pay their wages in the summer of 2014 and the club's much-admired academy has produced players that have gone on to sell for fees in excess of £5m since January 2015.
"Paul fitted extremely well into the ethos and the community element of the club and bought into it and understood it very quickly," said Exeter chairman Julian Tagg of his former manager.
"We would certainly be looking for somebody with that kind of empathy going forwards I'm sure," added Tagg, who was one of the original trust members who helped save the club back in 2003.
More funding from the trust?
Off the field, Exeter are a club that seem to be going places - their academy is continuing to get better and two new stands are being built at St James Park.
Funding for those projects has not come from the owners, but rather transfer income, FA Cup windfalls and developers.
"The trust say that they're ambitious, but what we need to see now is more money being generated from the trust going into the club," said Kirk.
"When you look at the turnover of the club and what the owner puts into it, it's probably less than 5% of turnover.
"It feels like a really crucial point in Exeter City's recent history now; someone described it to me as our 'Brexit moment'."
And those who own the club say they will discuss whether they need to change as the months and years go on.
"It's a model that saved the club; I think the model has evolved in the last 15 years," said Hawker.
"The fact that we have stayed in the Football League, have been very successful, and got to two Wembley play-offs in succession, says something about the governance of the club and the way we choose to run it.
"It's a little unfair to say we haven't been successful on the back of lack of finance but, as in any organisation, we have to evolve and the trust has evolved and will continue to evolve as we go forward."
At just 36, and in his first managerial role, Taylor inherits a club that is in good shape on and off the field, even if it is run in a different way to many others.