Jess Fishlock: Wales midfielder to consider retiring from international duty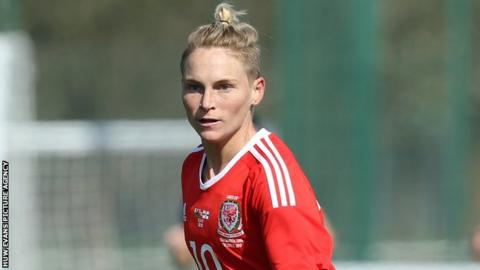 Wales great Jess Fishlock could retire from international football at the end of this World Cup campaign.
The 31-year-old is the only player - female or male - to win 100 caps for Wales without qualifying for a single major tournament.
But with the prolonging of her club career with Seattle Reign in mind, Fishlock says international football's "non-stop travel" has taken its toll.
"I feel this could potentially be the last one [campaign]," Fishlock said.
"I will throw everything into this and then I need to sit down with Jayne [Ludlow, Wales manager], with Wales and see what they're thinking and I will respect that.
"I love my country and not playing for them would be something very difficult for me, but equally I've played for over a decade now and it's OK to stop.
"The hope of qualifying is there, which is great.
"It would mean everything, and to do it now at the latter end of my career would be the icing on the cake."
Wales have never played in a World Cup but have given themselves the opportunity to end that wait after making their best start to a qualifying campaign.
Unbeaten in five games, Wales trail Group A leaders England by just two points and claimed a momentous goalless draw away against their neighbours - who are ranked second in the world - in April.
Manager Jayne Ludlow described the result as the greatest in Wales' history, and they host Bosnia-Herzegovina and Russia next Thursday and Tuesday in a double-header which could prove crucial to Welsh hopes of qualifying automatically or via the play-offs.
If Fishlock plays in both games, the midfielder will take her tally of Wales caps to 111, a remarkable feat which has seen her rack up a lifetime's air miles.
The Cardiff-born player has enjoyed an illustrious and well-travelled club career, winning the Champions League with FFC Frankfurt in 2015 as well as league titles in Australia and the Netherlands.
Fishlock now plays for Seattle Reign, one of the most successful team in the United States' National Women's Soccer League.
However, that trophy-laden and nomadic career has brought with it some side-effects which Fishlock will consider when she decides whether or not to keep playing for Wales.
"When you commit to a campaign at international level, you don't just commit to a month, you commit to two years of non-stop travel, friendlies, big tournaments, competitive games," Fishlock told BBC Sport Wales.
"No rest, no break and it takes its toll, not just physically but mentally.
"To do that while playing club football is a very difficult thing to do and any athlete will tell you that, male or female.
"And I've done it for so long that it's just whether I still have it within me to do it, and still be effective for the team two years down the line. That's the ultimate question.
"If I was to stop playing international football, my club career, I could go on for another three or four years. Or I go two years at club and two years international - that's the question.
"It's such a big decision. I have to speak to my club, speak to my national team, speak to my family and see if I can still do it."