Scotland: Mexico friendly at high altitude will 'hurt' - Johnny Russell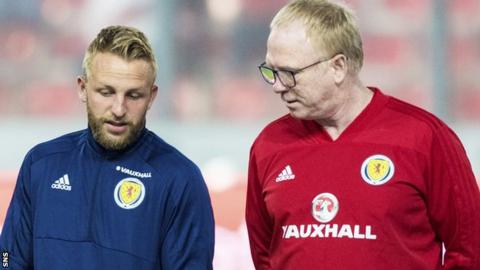 Johnny Russell says playing Mexico at high altitude will present a demanding challenge for Scotland.
Russell, 28, joined the squad after featuring for Sporting Kansas City on Sunday.
Earlier this season, he played in Colorado for his new side, his first experience of playing at altitude.
"I know how difficult it's going to be and it's going to be a lot worse in Mexico, but it's something you need to adapt to," he told BBC Scotland.
"I spoke to some of the guys at Colorado and they'd been there a while and still hadn't acclimatised to it properly. It takes time."
Scotland, after taking advice from contacts in North and South America, are not even going to attempt to acclimatise.
Instead, they will fly into Mexico City late on Friday night, staying in Lima until then. The advice was that even had they flown straight to Mexico after the Peru game, they would not have had sufficient time to acclimatise, so it was better to spend minimal time in the rarefied atmosphere of Mexico City.
So what exactly does playing at altitude do to the body?
"It hurts it," said Russell.
"That was my first experience of it and it was pretty difficult. Anyone who's trained or run at altitude will be able to tell you.
"It's hard on you. Until you get that second wind it's really difficult to get your breath. It's a hard one on the chest. It's difficult to put yourself through that but that's the profession we're in - we have to deal with these things, you have to push yourself through it."
Russell hopes to add to his four caps on Saturday. His last was earned as a substitute against Gibraltar in Faro in October 2015.
Since then, the former Dundee United man has left Derby County for a new challenge in the MLS.
"I'm enjoying it. We've started well and I've started well personally, so that always helps," he said.
"It's been good for me, the change. It's given me a bit of a spark back in my game that I was missing. That's what I've been searching for and I seem to have found it again so hopefully if I keep working hard I can keep that up."
His good form coincided nicely with Alex McLeish's need for players capable of bolstering a young squad and Russell is determined to make the most of it and stake a claim for a regular place.
"Every time you come away there's an opportunity to do that. Nobody knows more than me that if you don't take opportunities you're not going to stick around," he acknowledged.
"I've been fortunate enough to get a second chance and hopefully I can stay here.
"I've worked hard to get myself back in the squad and I've managed to do that so I'm grateful for the opportunity.
"If I do get a chance at the weekend I can hopefully show something to try to keep my place here as well."
Analysis
Dr Maria Cristina Rodriguez, Director of Sports Medicine at the University of Mexico
When the body is at high altitude it needs to produce more red blood cells to take in oxygen and distribute it throughout the body. At sea level it's easier to breathe. This is a big advantage for the Mexicans because they're used to the altitude.
For the Scottish players, coming to this country and not having adapted, could mean problems with tiredness, nausea, vomiting, headaches and their overall performance won't be at its usual level. Coming one or two days before the game isn't enough. They need much more time to allow the body to adapt - one or two weeks.
It will also be hot, maybe 25 degrees, so I'd expect some of the Scottish players could suffer from headaches or become dehydrated, dizzy and even disorientated. I'd hope there will be water breaks and the medical team will have to keep a closer eye on the players.