Stewart Donald: Sunderland owner says no pressure to sell players despite high wage-bill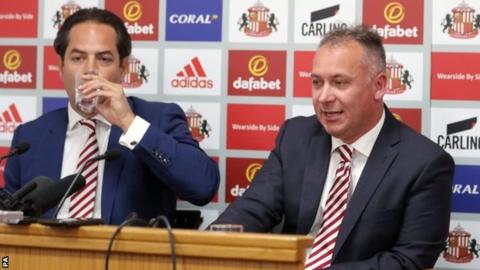 Sunderland are under no pressure to sell players for financial reasons despite some "astronomical" salaries on the payroll, says owner Stewart Donald.
Midfielder Jack Rodwell earns around £40,000-per week, a hangover from the Black Cats' time in the Premier League.
Back-to-back relegations have put Sunderland in League One, but the takeover deal with former owner Ellis Short has left the club debt free.
"We can afford to keep these players," Donald told BBC Newcastle.
"The reality is if they don't want to be here and ultimately we don't want them, then we need to get a sensible compromise and that is everybody being fair."
Donald, 43, wants any movement of players keen to depart the Stadium of Light to be in the best interests of the football club, and says there have already been approaches.
Manager Jack Ross has said he will take stock of the squad at his disposal before making a decision on players, having been unveiled to fans and media on Thursday.
"There is no way that the football club should actually, having been relegated, be bearing the brunt of players throwing themselves up in arms," he added.
"Currently we have lots of offers for players that are currently a little too low, some of those players don't want to be at the football club so we need to negotiate."
'We're not desperate'
Sunderland's financial situation was seen as a perilous one as relegation was confirmed in April, with a wage bill of £35m and the 13th highest net debt in Europe from Uefa's annual report.
However, Donald is confident the position is a very different one now he has begun his stewardship of the club.
"If ultimately it all came down to balancing the books, the offers we've currently got on those players we could accept and those players would leave," he continued.
"But the reality is that's still not good business, we have got confirmation from agents and players, you can see the email chains and there are people saying - Sunderland are desperate.
"We're not desperate, we can afford these players and want a fair figure. We want to keep some of those players that want to go, and we need to articulate those players and get them to to buy in."
Donald added: "If we're left with some players on big money, then the trick will be for Jack Ross to get them performing in a way that the Sunderland fans appreciate and want them in their team.
"We won't keep the full squad, because there are some players who have publicly said they don't want to play for the football club, we just need to do the right business."