Marco Silva: Is Everton's new manager worth the hype?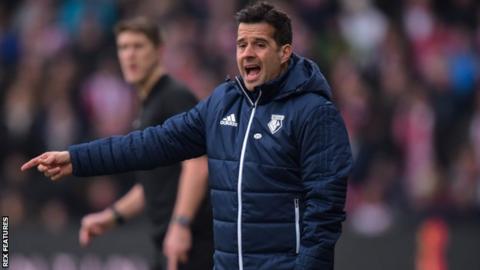 Marco Silva's appointment as Everton manager is the latest indicator of another summer of upheaval at Goodison Park.
Everton owner Farhad Moshiri has moved on to the 40-year-old Portuguese after sacking Ronald Koeman in October and successor Sam Allardyce at the end of the season.
Silva has Premier League experience with Hull City, who were relegated, and Watford - where he made an outstanding start before Everton's approach for his services in November threw their season off track and led to his sacking in January.
He has a burgeoning reputation and yet questions remain. Does he deserve the rave reviews he receives and what awaits him at Everton?
Just how good is Silva?
Silva's status has mostly survived intact despite failing to keep Hull in the Premier League in 2016-17, where he was given credit for rousing a team that looked doomed to relegation when he took over with them bottom of the table on 17 January.
Hull went down after defeat by Crystal Palace on the final day but most observers accepted he had done well to keep them in contention until then.
Silva's record, however, was lopsided. He won eight out of 12 home games in all competitions, including a 2-0 victory over Jurgen Klopp's Liverpool, but lost nine out of 11 away. The win ratio veered from 73% to 0%.
He was immediately a target for Watford and, working within the club structure that played to his strengths on the training ground, got off to a flying start, guiding them into a comfortable eighth position after a 2-0 win against West Ham on 19 November 2017.
Watford, however, had a big problem.
Silva's head appeared to have been turned by strong Everton interest, amid acrimonious exchanges that led to Watford sending a legal letter to Everton ordering them to back off as well as a complaint to the Premier League, even though Moshiri was prepared to hand over a reported £12m in compensation.
The Hornets went into decline. Silva was sacked in January with Watford still 10th in the table but the rot had set in as they won only one of his last 11 league games in charge.
Silva, however, has remained firmly on Moshiri's radar, believing that in the right environment he can become one of Europe's brightest young coaches.
He built his career on successes in his native Portugal and Greece.
Silva did a superb job at Estoril, guiding the second-tier Portuguese side into the Europa League before moving to Sporting Lisbon. He won the domestic cup there in 2015 before he was sacked, one of the reasons reportedly being his alleged failure to wear the official club suit in an early round of the tournament.
He then won the title at Olympiakos, also inspiring a Champions League win at Arsenal, before moving to the Premier League.
Silva has been praised for his high-pressing attacking style - which will be welcomed by Everton fans who rebelled against the austere and stodgy Allardyce era - as well as his meticulous coaching, tactics and attention to detail.
He also likes a close relationship with his players, with man-management a strength.
Silva, however, also has another question mark against his name.
Will he stick around at Everton?
One of the reasons Silva is regarded as a gamble after being given the Everton job is that he has rarely stayed anywhere long enough for a definitive judgment to be made on his ability.
He only stayed briefly at Sporting Lisbon and Olympiakos, left Hull after their relegation and his time at Watford only stretched between May 2017 and January 2018.
It was that final episode that has some suggesting Silva may not be the man for the long haul as he was so clearly disturbed by an approach from Everton barely a dozen games into his Vicarage Road reign.
Everton will hope that this is the sort of high-profile job Silva has craved - and indeed did crave when they made their first approach in November.
And Moshiri will also hope that the man he has wanted in charge since last November also now feels it is time to put down roots and work to a long-term strategy rather than risk earning a reputation as flighty, attracted instantly to the next bigger and better opportunity.
Silva's ambition is unquestioned. He and Everton will hope they can fulfil it together.
Will he fit in to Everton's new structure?
Silva walks into Goodison Park to a management structure fine-tuned by Moshiri, one that is more familiar in Europe than in the Premier League.
Moshiri's first attempt to implement it ended in failure when Steve Walsh came from Leicester after their title win in 2016 as director of football, with his role bolted on to manager Ronald Koeman, who had already arrived from Southampton.
But their relationship never looked anything more than an arranged sporting marriage, resulting in a hotch-potch transfer strategy that never looked coherent.
The result is both have now been sacked and Silva is part of the latest expensive Everton re-boot.
The key role of director of football is now held by Marcel Brands, the 56-year-old Dutchman with the glittering reputation and CV built at PSV Eindhoven, who have won the title under his guidance in three of the past four seasons, as well as another Eredivisie triumph alongside Louis van Gaal at AZ Alkmaar.
Brands will be calling the shots, in co-ordination with Silva of course, on transfer and overall strategy and he has already made it clear his role will be hands-on.
Moshiri believes Brands, well-regarded throughout Europe and with global contacts, will bring "drive, energy and expertise to Everton".
"It was clear to me in our conversations that he shares in the vision we have for the club and he has much to contribute in making us better and more equipped to challenge the top teams," said the Toffees owner.
Brands rubber-stamped Silva's appointment after insisting Everton must have a "modern" manager prepared to work with young players.
Moshiri, who simply cannot afford the failure of another key relationship at the top of the club, will hope Brands and Silva find the harmony and success that appeared to elude Koeman and Walsh.
What are Silva's priorities?
The first will be, in conjunction with the highly influential Brands, to decide the future of Wayne Rooney, as the 32-year-old mulls over an offer from Washington-based DC United in MLS.
He must then work to cut the numbers and wage bill of a large, unwieldy and unbalanced squad after a wretched campaign.
Brands will seek to refresh the playing staff and more focus will be on youngsters such as 19-year-old Tom Davies, Dominic Calvert-Lewin (21) and Ademola Lookman (20), who will surely be given more opportunities after a successful spell with RB Leipzig in the Bundesliga.
And Everton will hope Silva can get the best out of club record £45m buy Gylfi Sigurdsson, who showed his class before a serious knee injury. They also have Jordan Pickford, England's first-choice World Cup goalkeeper.
Phil Jagielka and Leighton Baines have been stalwarts of Everton for more than a decade but are now 35 and 33 respectively, while the list of players who may need to be moved on will form a high pile in the "in-tray" of Brands and Silva.
Ashley Williams, at 33, looks to have no Everton future while a question mark hangs over £24m former Ajax captain Davy Klaassen and many more as Silva must oversee some heavy pruning while reshaping and re-invigorating the squad.
And in Moshiri and Brands, he has two powerful individuals who firmly believe he is the manager to do it.